Raising The  Visibility Of Talented High School Student Athletes To College Coaches And Scouts
About The G2 Hoops LLC Owner
Gary, Indiana, native Gregory Jones II is the owner of G2 Hoops LLC, a sports marketing and event management company. G2 Hoops specializes in grassroots basketball, providing a platform for young athletes to refine  their  athletic and professional skills.
I started with just wanting to help others. Giving my testimony and life experiences hoping it would motivate and influence people in the basketball community. Now my G2 Hoops brand has evolved beyond basketball into other industries. My purpose is to prepare young athletes for the next level in the journey of life.
That could be high school, college or professional. How do you build your network for success? Two of the biggest things for me are word of mouth and social media. All though we have technology at the tips of our fingers word of mouth is the best form of networking.
I believe quality over quantity is law. What two moments in your life changed you the most? Having a serious injury that eventually led me to stop playing basketball competitively is the biggest moment in my life. It shaped me into the person that I am today. I don't believe I would be doing the things I am in 2018 if that moment did not happen. Making my mind up to start my company.
Sometimes one has  to take risks in life. What are three important pieces of advice you would give your future daughter or son
1. Believe in yourself
2. Never give up.
3. Keep God first.
What piece of advice would you give your teenage self? Life isn't going to go the way you think. If you stick with it during the hard times the outcome will be better than you could imagine. What advice would you give to young men about dealing with their emotions? It's OK to seek help. Mental health is extremely important. Don't be afraid to speak to someone.

Providing A Formula To Thrive In Life And Paving A Road To Success.
How do you utilize your knowledge to benefit and inspire others? I utilize my knowledge and experience to help parents, coaches, trainers and young athletes make informative decisions. If there was a speech to give to young women and  men, what would you title your speech and why? I would title my speech "Surviving vs. Thriving.There is a big difference between the two. Most young women and men  are trying to survive in America. I want young black people to have more opportunities. What two quotes do you use to motivate yourself and others? "There is nothing permanent except change." –Heraclitus "Everything has beauty but not everyone can see it." –Confucius Name two iconic humans who have inspired you or currently inspire you. Why? Muhammad Ali was an amazing man  spoke his mind during a time where African Americans needed a voice. He sacrificed his own life to stand up for the voiceless. Martin Luther King Jr.'s I Have A Dream speechis most iconic speech ever.
The  G2 Hoops LLC Brand Beyond Basketball
.
The organization is the first company to host a high school event in Indiana featuring high schools from over five different states. G2 Hoops LLC events have featured players that have participated in Nike Hoop Summit, Nike EYBL (Boys/Girls), Adidas Gauntlet (Boys/Girls), Under Armour Association, McDonalds All American Game, Jordan Brand Classic, and Geico (Formerly Dick's Sporting Goods) National tournament.
Providing A Hand Up
Over the years, Jones has helped develop basketball throughout the continent of Africa. He has worked in player development with AAU programs, international basketball federations, high schools, colleges, and individual professional athletes. In 2014 Jones helped Ehab Amin become the first player from Northern Africa/Middle East to participate in the Nike Global Challenge. In 2015 Greg assisted Karim Sameh Azab become the first Northern Africa/Middle East native to play on Nike's prestigious EYBL circuit with CP3 All Stars.
High School Girls Hoops 4 Pink Basketball Tournament
The Second Annual Hoops 4 Pink, a high school girls basketball tournament featuring some of the top high school programs in the Midwest region that also brings awareness to breast cancer, is scheduled to take place at Bishop Noll Institute in Hammond December 26-29, 2018. The tournament will focus on girls between ages 6-18.
The Second Annual Mac Jelks Invitational, a boys and girls basketball high school invitational featuring teams from Chicago and other regions of the country, will take place at Bishop Noll Institute January 1-3, 2019.
"We are excited to announce BC Christian Prep will be in attendance," Jones said. "This will be the first time a Canadian high school will play in the tournament."
Last year's event attracted high school athletes from Alabama, Georgia, California, Kentucky, Kansas, Missouri, Illinois, and Indiana as well as scores of supportive coaches, parents, and basketball fans.
The Hoops 4 Hope Tournaments Give Youth Basketball More Exposure And Helping To Fight Breast Cancer
Every high school player does not have the necessary resources to obtain an athletic scholarship to a college/university. Through our tournaments we provide a platform where high schools can be seen by college coaches and scouting services. We also want to raise the awareness of basketball at the youth level. Provide quality events in grassroots basketball.
February  2nd /2019 9th is the Annual Hoops "4" Hope Pink Out ! Each year, 10% of the proceeds from the night goes to the Susan G. Komen Foundation and the rest helps with the medical expenses of someone in a family currently fighting breast cancer.
We had several different ways people could give. Participants could purchase a " Hoops 4 Hope"Pink t-shirts, enjoy some dinner at the Soup Supper, buy a  ticket to compete in the halftime "GOTCHA" game, or pay for a ticket to play in the "Heads or Tails" game.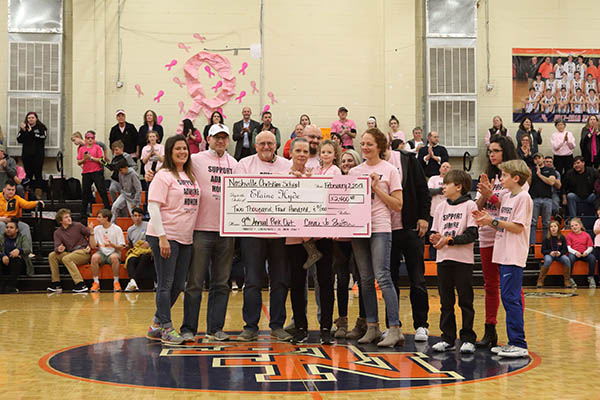 Several breast cancer survivors   present a donation check at the Feb/02/2018 game . All survivors  are entitled to receive a Pink Out t-shirt and a small gift and  honored at center court between the 2019 games .
If you consider yourself as a passionate online shopper like myself, eBay has amazing  deals on the best products.I hoped you enjoyed the Youth Basketball Training Programs-G2 Hoops, LLC Providing Exposure For Athletes And Coaches Through The Game Of Basketball article and if you have any questions want to leave a comment or want to leave your own personal review,please leave a comment below .
Thank you,
Erick Darke
by