There has been only three woman ever to hold a full time coaching job with an NBA team.The female coaches currently with an NBA team is Becky Hammon, who has been an assistant to San Antonio Spurs head coach Gregg Popovich since 2014. The other current NBA female coach is Jenny Boucek who  joined the Sacramento Kings  head coach Dave Joerger's staff as a full time assistant coach in 2017
Nancy Lieberman now currently the head coach of the Power is a  basketball Hall Fame member. She becomes the first female coach in the BIG 3, replacing Clyde Drexler, who was named league commissioner .
Lieberman is no stranger to history herself. She coached the Texas Legends in the NBA D-League, becoming the first ever professional woman head coach. Lieberman has also spent time on the Sacramento Kings' bench as an assistant coach, before stepping away to spend time with her mother. Following that, she was a broadcaster for  the NBA New Orleans Pelicans games.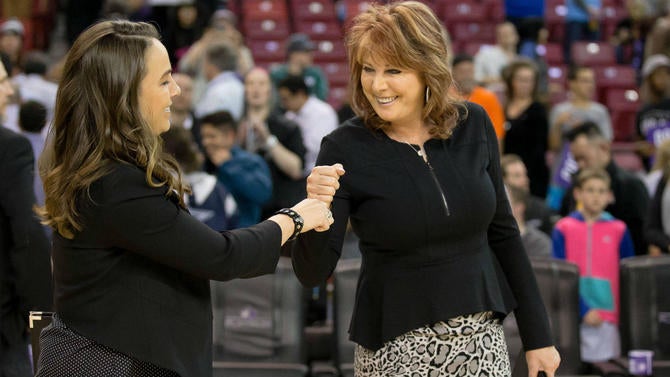 Approximately 123 head coaches are at the helm of teams in the four major men's professional sports leagues: NFL (football), NBA (basketball), MLB (baseball) and NHL (hockey). How many of those head coaches do you think are women you say ?  you guessed  it . It's zero. However that could change one day, at least in the NBA, because Becky Hammon, a former WNBA player and current top assistant coach for the San Antonio Spurs,  reportedly interviewed   for the head coaching position with the Milwaukee Bucks. Hammon made NBA history already: When the Spurs's popular head coach, Gregg Popovich, hired her in 2014, Hammon was the first woman ever to serve as a full-time assistant coach in the league (and, for that matter, in MLB, NHL or NFL). Popovich, is revered to be one of the greatest NBA's coaches of all time, had been a fan of Hammon's since she was a pro player herself, first as a scrappy 5-foot-6 center for the New York Liberty (a team she walked on to after being passed over due to her height) and, later, the San Antonio Stars. "I'd watch the game, and the only thing I could see . . . was Becky's aura, her leadership, her effect on teammates, her effect on the crowd, the way she handled herself," Popovich told The New Yorker. "She was, like, the ultimate leader." Hammon coached the Spurs in the NBA's 2015 summer league—and took home the championship. Sounds like the perfect person to land the top job with the Bucks. And if she were a man, she'd probably would of gotten the job. But seeing as she's not. Hammon's relatively young age (41) and experience (four years as an assistant coach in the NBA; no previous head coaching jobs) are the obvious  official arguments against her.  But also, not surprisingly, the team was  keener on male coaches. It doesn't feel like a stretch to imagine that if Hammon were a man, she wouldn't be knocked for her lack of experience but praised as a gutsy, young upstart instead. ("Experience" is similarly hurled as a criticism of female political candidates, while seldom raised in reference to their male counterparts.)
Moreover, it's somewhat of a catch-22 for the NBA to penalize Hammon for a lack of experience when the league itself has never, not once in 71 years, hired a woman to a top coaching job—if women are never given a shot, how are they supposed to gain that oh-so-valuable experience? Despite women's fandom and support of the NBA (and the NFL and others), despite women rising up against the upswing of sexual harassment and abuse in the work place , despite the fact that men consistently serve as coaches for women's teams in sports across the spectrum, professional men's sports remains an  archaic backward island unto itself, where it has been practically unthinkable for women to be the touch line bosses. Completely boxing women out of leadership positions hardly registers in the NBA and its peer leagues—at least before Hammon's moment—because it's simply the norm in this most physical and macho of environs. Spurs player Pau Gasol called it out as being  bullshit in which he voiced support of Hammon. "This idea that, if there were a female head coach in the NBA, there would be some sort of . . . 'awkwardness in the locker room' . . . it's a myth. Give me a break," Gasol said. "The players dress in a certain area, and the coaches dress in a certain area. Okay? It's not like you're seeing male head coaches sharing a space with players while they're changing. It doesn't happen . . . in terms of behind the scenes, there really is no practical difference in this league between having a male or a female head coach." The NBA may be as aware of sexist, nonsensical criticism of Hammon than anyone, as it positions itself as the most woke of the men's pro leagues. Stars like  LeBron James and Steph Curry have vocally criticized President Trump and supported Black Lives Matter (James, for one, has said he'd support a female head coach: "If she knows what she's doing, we'll love it . . . at the end of the day, it's basketball, it's not about male or female")The Bucks  interviewed Hammon. And they shouldn't get props for merely considering her they should hire her. Because she's the best person  for the job point blank period .
LeBron James endorses idea of female head coaches in NBA
The Los Angeles Lakers basketball super star  LeBron James has fully endorsed having  female head coaches in the NBA.James has publicly  been in favor of  playing for a female coach, like San Antonio Spurs top  assistant Becky Hammon, saying, "at the end of the day, basketball, it's not about male or female."
"If you know the game, then everybody is accepting of that," James said. "It's the same thing with players. You have different walks and shapes and lives of players, but if you can play, you can play. You always accept it. You can't play, you can't play. If you know the game, you're always accepted. If you don't know the game, it's all about your knowledge of the game. It shouldn't matter if you're a woman or a man.
Hammon was fairly interested in being a candidate for the head coaching vacancy for the Colorado State men's basketball team previous to the Niko Medved hiring  last month. Hired by the Spurs in 2014, Hammon joined Gregg Popovich's staff and became the first full-time female assistant coach in NBA history.
"Obviously, you guys know how fond I am of coach Pop, so for him to bring Becky in there to be able to be an assistant and kind of give her input — I don't quite know how much input she has, I'm not there on a day-to-day basis — but just having her face there, it means a lot," James said. "There's also some female coaches in the NFL as well, too. It's cool. If you know the game, you know the game. I love talking the game, so I don't think of it being a problem at all."
James additionally made reference to  ESPN's Doris Burke sports commentator, who will be inducted into the Basketball Hall of Fame on September 2018.
"Listen, we have so many female reporters now that know the game and they cover the game," James added. "I mean, you look at Doris Burke, she's one of the greatest that we have in our game. She knows the game, so it doesn't matter.
Doris Burke,is the recipient of the Hall's Curt Gowdy award for electronic media. It's a deserved honor for a trailblazer and role model who this season became the first woman to hold the job of full-time NBA color analyst.
Hammon was reported to be a top candidate for the head coaching vacancy for the Colorado State men's basketball team before Niko Medved was hired last month. Hired by the Spurs in 2014, Hammon joined Gregg Popovich's staff and in 2018 became the first full time female top/lead assistant coach in NBA history.
Female Coaches Who Are NBA Ready
Cheryl Miller's little brother, Reggie, came home bragging about dropping 39 points in a game. Well, Miller finished with 105 points in a game that same day. In a 1985 Sports Illustrated cover story, Miller was named the best basketball player in America, male or female. Miller, who scored 3,018 points, won two national championships and was named Naismith College Player of the Year three times during her four years at USC, is enshrined in both the Naismith Memorial Basketball Hall of Fame and the Women's Basketball Hall of Fame. She also helped lead Team USA to gold in the 1984 Los Angeles Olympics. She was the first basketball player at USC to have her number retired in 1986, which was her final season with the team.
MARIAN E. WASHINGTON
By the end of her 31-year tenure, Marian E. Washington had compiled a 560-363 record as Kansas' women's basketball coach and guided the Jayhawks to the postseason 16 times: 11 NCAA tournaments, three Association for Intercollegiate Athletics for Women sectionals and two WNIT appearances. In 17 seasons, her Kansas teams finished with 20 or more wins, seven league titles and six conference tournament championships.
She became the first African-American to coach on a U.S. Olympic women's basketball staff when she served as an assistant coach on Team USA's gold medal-winning 1996 Olympic team. Washington was the first woman to serve as president of the Black Coaches Association and became the first president to serve consecutive terms. Washington was a member of the first women's national championship team when unbeaten West Chester State defeated Western Carolina in the 1969 National Women's Invitational Tournament. That same year, she was one of the first two black women to ever make a United States national team.
C. VIVIAN STRINGER
Over the course of 45 seasons, C. Vivian Stringer finds herself only three wins away from joining one of the most exclusive clubs in college basketball. Sitting at 997-402, the 70-year-old coach is a few months away from becoming the sixth Division I basketball coach overall and first African-American to win 1,000 or more games.
She would join late Tennessee coach Pat Summit, Stanford's Tara Van Derveer, North Carolina's Sylvia Hatchell, UConn's Geno Auriemma and Duke's Mike Krzyzewski, who is the only men's coach to reach the mark. In 2009, Stringer was inducted into the Naismith Memorial Basketball Hall of Fame.
The memory of Stringer's first career victory with Cheyney in 1972 eludes her, but she has no issue recalling that she took the first historically black college or university in the United States to the final of the inaugural NCAA women's basketball tournament, where the team fell to Louisiana Tech. Stringer is the lone coach to take three teams to a Final Four — Cheyney (1982), Iowa (1993) and Rutgers (2000, 2007) — and she coached Cheyney and Rutgers to appearances in the title game in 1982 and 2007, respectively.
CAROLYN PECK
Not only is Carolyn Peck still the youngest coach to win a Division I women's basketball championship — she was 33 at the time of Purdue's victory — she is also the first black coach to win on the women's side. Her team is also the only winner of the women's tournament as a member of the Big Ten Conference. Maryland was a member of the Atlantic Coast Conference when it won in 2006.
After guiding Purdue to a 23–10 record and an Elite Eight appearance in her first season (1997), Peck led the Boilermakers to their first title in women's basketball history in 1999. That season, Purdue was 28-1 and won all six of its NCAA tournament games by 10 or more points, including its decisive 62-45 rout of Duke in the championship bout.
The Associated Press named Peck Women's Basketball Coach of the Year, and the New York Athletic Club honored her with its Winged Foot Award, which is given to the best coach in college basketball, making her the first woman and the first African-American to receive the accolade. Besides those two distinctions, Peck was named Coach of the Year by the U.S. Basketball Writers Association (USBWA) and the Women's Basketball Coaches Association in 1999.
DAWN STALEY
When South Carolina needed to upend No. 2 Mississippi State for the first time all season, it did so by beating the 32-0 Bulldogs when the stakes were highest in the Southeastern Conference championship game. That made Staley's squad the first SEC team to win four consecutive conference tournament championships, and that gave the Gamecocks the automatic bid.
It was the fifth straight season Staley's team entered the tournament with 25 or more wins and the seventh consecutive year the Gamecocks played in the NCAA tournament, making it the longest streak in school history. In 18 seasons, Staley has accumulated an overall record of 419-166 — 172-80 (Temple) and 247-86 (South Carolina) — and has coached nine teams to 25-plus-win seasons. South Carolina won the 2017 NCAA women's championship.
Besides reaching 15 postseasons, the 47-year-old's team has enjoyed a 69-week stint in The Associated Press Top 10, with 12 of those weeks spent at the No. 1 spot. She is the head coach of the U.S. women's national team for 2017-20.
FELISHA LEGETTE-JACK
Coming off a storybook Sweet 16 run in this year's NCAA tournament, the University at Buffalo received its first Top 25 ranking in program history. Felisha Legette-Jack's team saw the biggest rise of any program as the Bulls moved from No. 35 in USA Today's Top 25 Coaches Poll at the beginning of the tournament to No. 21 by season's end.
The Bulls' ascension should come as no surprise, as they traveled to Tallahassee, Florida, and beat No. 6 South Florida, 102-79, in 11th-seeded Buffalo's first-round matchup and then beat No. 3 Florida State, 86-65. USF was basically playing a home game, while the Seminoles were playing in their home confines.
Legette-Jack coached the Bulls to their best win total in program history (29-6), a school-record 16 conference wins, perfect 12-0 home record and first MAC East Division title. This was not only Buffalo's first Sweet 16, it was also the program's first trip to the Big Dance as an at-large, the first time in 22 years that a Mid-American Conference team played in the tournament as an at-large entrant since Toledo and Kent State in 1996. All three teams went on to win their opening-round matchups.
STEPHANIE READY
Stephanie Ready finished her basketball career at Coppin State in the top 10 in steals (second), assists (fourth), points (eighth) and rebounds (10th). When she took over as assistant coach for the Greenville Groove of the National Basketball Development League, she became the first female coach of a men's professional league team in 2001. Two and a half years ago, she was promoted from Hornets sideline reporter and host on Fox Sports Carolinas to analyst, which made her at the time first full-time female NBA game analyst.
TINA THOMPSON
Tina Thompson, who will be a Class of 2018 inductee into both the Naismith Memorial Basketball Hall of Fame and the Womens Basketball Hall of Fame , finished her storied 17-season WNBA career with the second-most points in league history (7,488 points) behind Diana Taurasi and 3,070 rebounds. Now an assistant coach with the Texas Longhorns, who finished the regular season ranked eighth in the country, a No. 2 seed in the Big 12 tournament and a No. 2 seed in the NCAA tournament before its Sweet 16 exit.
The No. 1 overall pick in the WNBA's first college draft in 1997, Thompson went on to win four consecutive WNBA Finals with the Houston Comets from 1997-2000. The USC grad owns gold medals from the 2004 Athens Olympics and 2008 Beijing Games.
If you consider yourself as a passionate online shopper like myself,Ebay has amazing  deals on the best products.I hoped you enjoyed the Women Basketball Coaching Jobs-Is The NBA Woke Enough To Hire First Female Coach  article and if you have any  questions and  want to leave a comment or want to leave your own personal review,please leave a comment below .
Thank you.
Erick Darke
by