Her Time To Play
Her Time To Play is a national grassroots initiative created by the WNBA and NBA to inspire the next generation of girls, ages 7-14.New program is designed to keep girls involved in sports and train female coaches and mentors.
15th WNBA All-Star weekend
The 15th WNBA All-Star weekend, players and alumnae participated in the Her Time to Play Clinic and Panel presented by AT&T. WNBA legend Jennifer  Azzi facilitated a panel that included 2019 All-Stars Napheesa Collier, Jewell Loyd and the Las Vegas Aces' own Kayla McBride. Former WNBA  forward and current Aces franchise development manager Rushia Brown alsojoined in on the panel and clinic.
Girls ages 5-14 listened to  the women discuss everything from transitioning to the WNBA from college
to smart social media practices. While Azzi knows not every participant aspires to be a WNBA player, she believes the girls can gain valuable insight by interacting with professional women in sports.
"If nothing else, the girls can see the role modeling, and they can see that you can be involved on the court," Azzi said after the clinic. "You  know, the chances of anyone making it — a boy in the NBA, girl WNBA —
Initiative To Inspire girls
Fourteen is a pivotal age for girls. It marks the point at which many
of them have dropped out of sports — twice the rate as boys of the same
age, according to the Women's Sports Foundation.
In an attempt to reverse those numbers, this week the NBA announced Her Time To Play, a new initiative to inspire girls ages 7-14 to learn and play basketball.
"In the age range of 7 to 14, when girls are facing many of the
challenges, we've seen decline in participation," said David Krichavsky,
NBA vice president of youth basketball development. "We've also seen
that there aren't as many opportunities for women to serve in coaching
and mentorship roles for girls. So we've launched a program this year as
part of our Jr. NBA Week," which runs Oct. 8-15.
The program will provide hundreds of youth organizations with a free
basketball curriculum and life skills lessons developed specifically for
young women. It also aims to train and license 500 new female coaches
and mentors through USA Basketball's Coach Licensing Program. Select
coaches will be honored at the 2019 Jr. NBA Youth Basketball Leadership
Conference for their commitment to growing the game.
"The response from the basketball community, the WNBA community and
on social media has been that this is a truly important campaign, and a
timely one too," Krichavsky said. "We're dealing with a society that's
evolving in a lot of ways, and we think this meets the needs of girls
today."
Her Time To Play is a collaboration with the WNBA, USA Basketball,
YMCA of the USA, the Women's Basketball Coaches Association, Boys &
Girls Clubs of America and the Women's Sports Foundation.
The curriculum, co-created with the Women's Sports Foundation,
includes lessons on healthy eating and nutrition, mental wellness, body
image and bullying. Each chapter features a WNBA team and highlights
personal stories shared by WNBA players, including five-time All-Stars
Elena Delle Donne and Brittney Griner and 2016 MVP Nneka Ogwumike.
Delle Donne couldn't play at one point because of injury and Lyme
disease. She described how she "learned to push through some tough
situations and ask for help."
Ogwumike struggled with self-confidence. "I was lucky to have amazing
coaches and teammates who made it feel like family," she said. "They
cared about me and helped me find out what I was best at as an athlete."
The 30 NBA teams will host basketball events and programs for local
youths to celebrate Jr. NBA Week, including special activities to tip
off Her Time To Play. For example, on Saturday, Gordon Hayward will host
a Jr. NBA clinic for 30 girls in Boston, leading them in basketball
skills and drills and an off-court leadership activity alongside his
wife, Robyn.
The Jr. NBA is the official youth basketball development platform of
the NBA, the WNBA and the G League. It was relaunched in 2015 with a
focus on increasing participation and making sure kids have an
opportunity to learn the fundamentals of the game as well as core values
and life skills.
"We know the role that sports can play, and basketball in particular,
in helping girls face challenges of youth, so we have this free
curriculum that's designed not only to teach on-court skill development
but also life skills off the court in really important areas like
nutrition and wellness," Krichavsky said.
The new program for girls doesn't mean the league is neglecting boys, Krichavsky said.
"We're continuing to do a lot of work in terms of developing on- and
off-court skills with boys. We have a program with the organization
called A Call to Men, which does work around teaching boys and men about
gender norms, gender roles; it works to eliminate gender violence," he
said. "So we have a separate campaign and will continue that campaign to
also speak to coaches and to boys about ways they can appropriately
work with and interact with girls and women."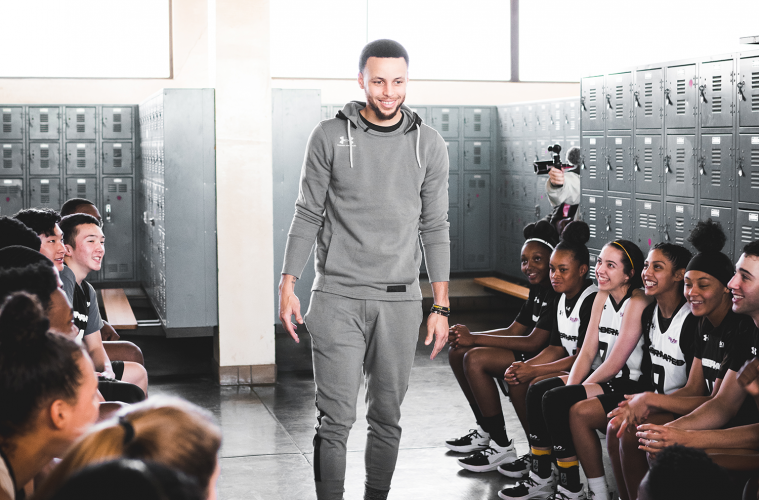 Candace Parker And Stephen Curry Inspire The Next Generation
While a gym full of high school basketball players warmed up for in
Oakland last Friday, a group of young women from Girls Inc. filed into
the Rakuten Performance Centre, the practice facility of the Golden
State Warriors, for the start of a special Future Leaders Experience
presented by Rakuten. Two youth empowerment initiatives, one key message: With hard work and self-confidence, anything is possible.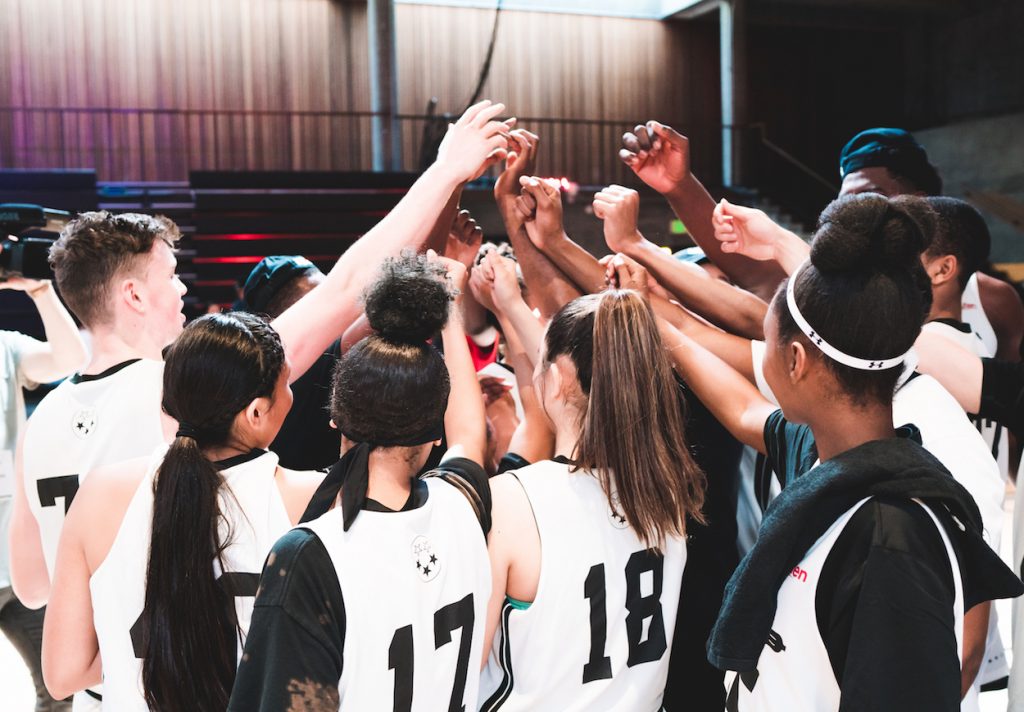 Underrated Tour players put their hands in for a cheer after their championship game on March 30.
 To Underrated Athletes Stephen Curry's Advice
"It doesn't matter what anybody else says about you. It doesn't
matter where you start — I'm a prime example of that," Stephen Curry
told athletes during a surprise locker room pep talk on day two of the
Rakuten-powered tour.
For the players surrounding Curry — 22 locals and eight "all-stars"
selected from previous tour stops around the country — it's a story they
know well.
Coming out of the high school, Curry was considered not tall enough or too thin
to succeed at the collegiate level. He was rebuffed by his first-choice
university. "[I went] from being an unranked three-star recruit from
Charlotte, North Carolina, looking for D-1 scholarships that were very
hard to come by, to being in my 10th year in the NBA."
"It's
not about what others say you can't do. It's about the work that you
put it and the attitude that you have," Stephen Curry shared with
athletes at the event.
Curry hopes that kids who feel underrated or overlooked can take inspiration from his rise.
"The goal for you guys right now is just to get better. Every single
day. That's what you can control," he added. "It's not about what others
say you can't do. It's about the work that you put in and the attitude
that you have: The attitude that you can conquer anything that's in
front of you."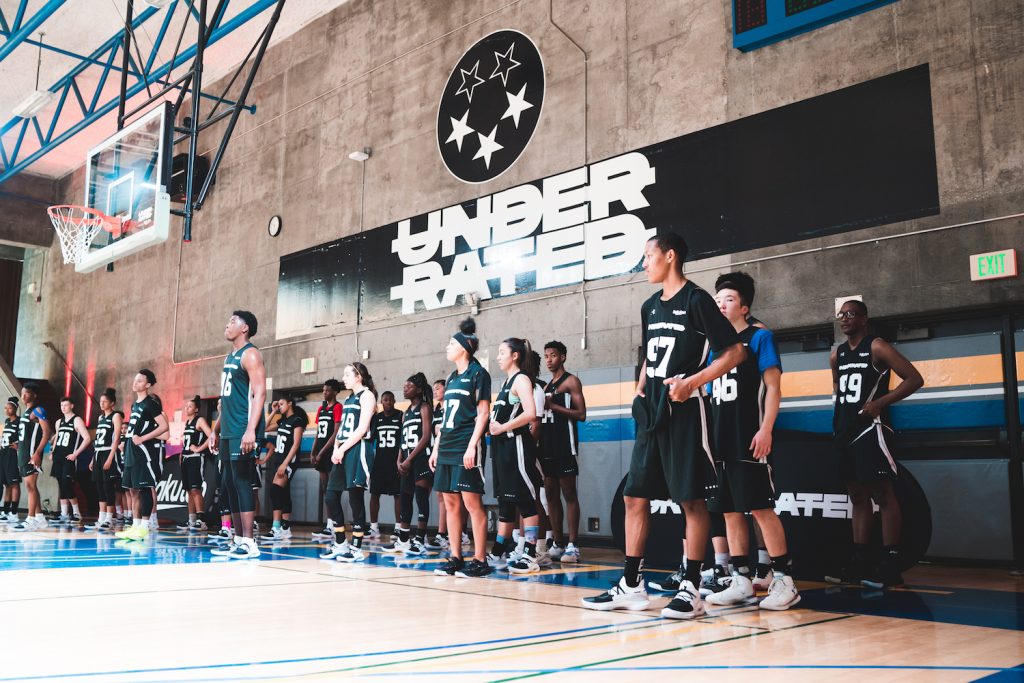 Eight standout players from previous Underrated Tour stops across the country joined the final stop in Oakland.
 Bay Area Community Unity

With the tour concluding in Oakland — the place where Curry's
professional journey began — the event was bound to be special. On day
two of the camp, doors were open to the public and the gym quickly
filled with local Warriors fans.
At half time, the audience got a chance to compete in a shooting
competition that had competitors race to hit three shots — a lay up, a
free throw and a three-pointer — in the shortest time possible.
Berkeley resident Nawang, who took home top prize, a Stephen Curry jersey, was amazed by the energy he saw at the venue.
"The spirit was similar to Oracle Arena, where the Warriors play," he
commented. "It means a lot to see big name players like Stephen Curry
come out and spend time in the community like this."
"It
means a lot to see big name players like Stephen Curry come out and
spend time in the community like this," said local resident Nawang, who
came to cheer on the athletes.
Angel, who came to cheer on her cousin and also took part in the
shooting contest, had seen Curry just a month prior when he visited her
school.
"The Warriors are great role models. They're always in the
neighborhood contributing," she said. As a fellow high-performance
athlete, she was also thrilled to see so many young women highlighted by
the tour. "It's amazing because not many girls get this kind of
exposure."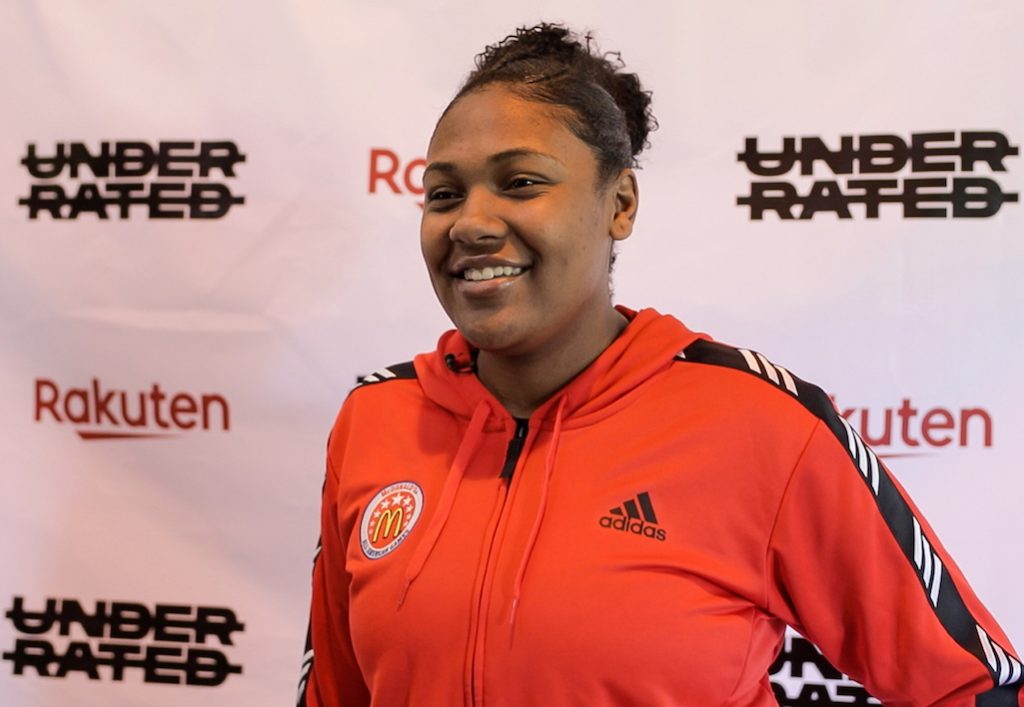 "It's amazing because not many girls get this kind of exposure," said Angel, who was supporting her cousin at the Oakland stop.
The parents and guardians in attendance also received their time in
the spotlight. During the halftime break, Rakuten invited a group of
guardians to center court to receive bouquets of flowers for the vital
role they play in the growth and success of their children.
Curry poses with parents and guardians after the championship game.
Adding to the excitement of the event was the presence of Curry's Warriors teammate Quinn Cook
who dropped by the gym to take in the action. Cook took time to pose
for photos, talk to players and show off some skills after the event.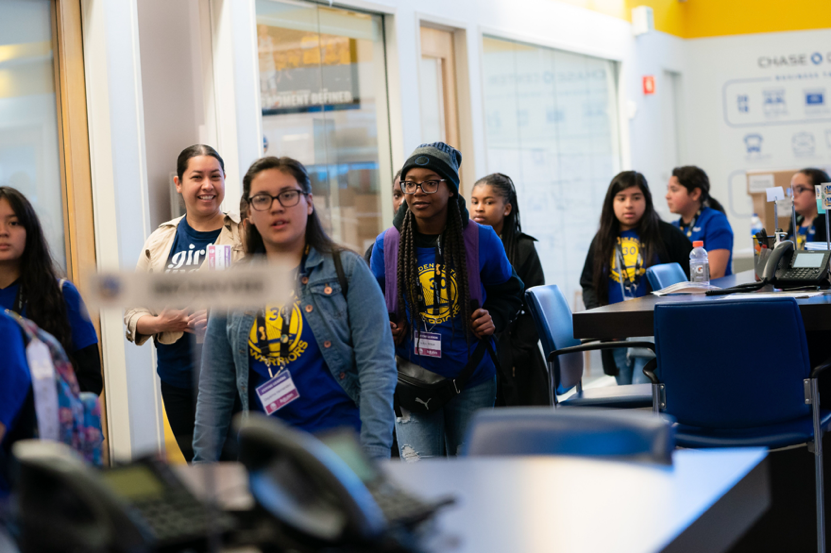 Middle
schoolers from Girls Inc. of Alameda County toured Warriors HQ before
being paired with mentors from the organization as part of a special
Future Leaders Experience.
Middle School Girls
Future Leaders Experience Work Shop
On the same weekend as the Underrated Tour came to Oakland, middle
schoolers from Girls Inc. received the opportunity to shadow mentors
from the Golden State Warriors and see firsthand what it takes to be a
successful woman in the world of sports and business.
The Future Leaders Experience started with a tour of Warriors HQ,
where the girls met the women they would be shadowing at a Warriors game
two days later. The meeting was followed by a team lunch, where they
were joined by Lindsay Gottlieb, head coach for the University of
California Women's basketball team.
After sharing her story and stressing the importance of dreaming big
and staying true to yourself, Gottlieb surprised the group by revealing
they'd be heading to Nordstrom to pick out business professional
outfits, with the help of personal consultants.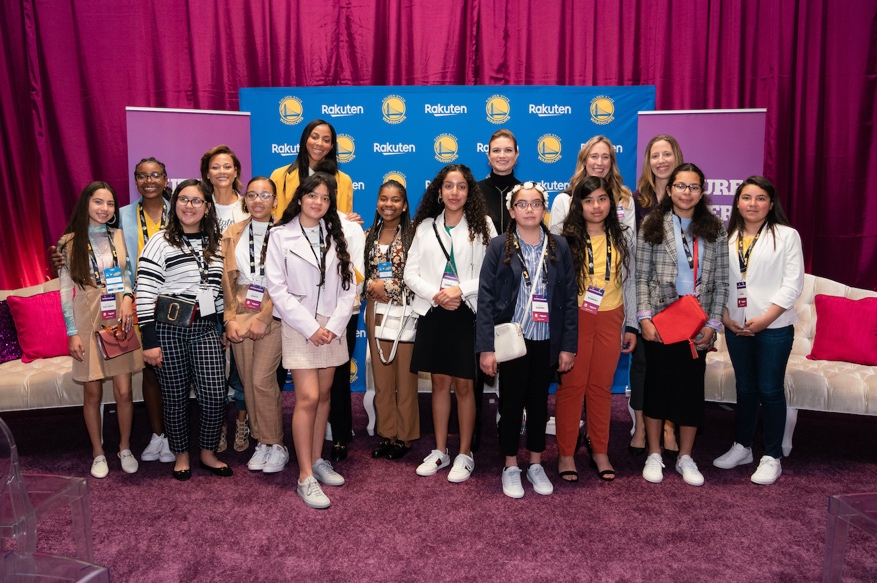 Girls
Inc. participants were treated to an all-star panel discussion
featuring WNBA legend Candace Parker; Stephen's mom, Sonya Curry; chief
operating officer of Ebates, Adrienne Down Coulson; and head coach for
the University of California women's basketball team, Lindsay Gottlieb.
 Sonya Curry And Candace Parker Inspire Young Ladies at Golden State Arena
Two days later, before the Warriors tipped off against the Charlotte
Hornets in Oakland, Girls Inc. participants were treated to an all-star
panel discussion featuring WNBA legend Candace Parker; Stephen's mom,
Sonya Curry; chief operating officer of Rakuten Ebates Adrienne Down
Coulson; and once again, Lindsay Gottlieb. The panel was hosted by
Warriors Sideline Reporter Kerith Burke.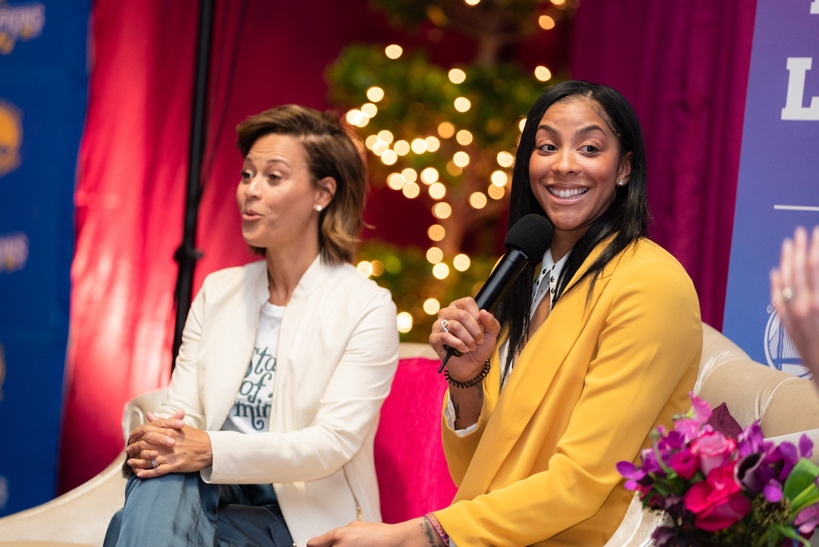 Candace
Parker (right) discussed  the female mentors who inspired her growing
up, including legendary women's basketball coach Pat Summit and her own
grandmother.
Asked about the key to building confidence, Parker stressed the
importance of "being prepared and looking in the mirror every day and
saying you can do it if you work hard enough."
"At this critical age, seek to be the best version of yourself,"
shared Gottlieb. "You can look around and get inspiration from a lot of
different incredible women, but you also have to value and love who you
are."
Many panelists echoed the value of learning.
Sonya
Curry urged the girls to lift up the women in their lives instead of
bringing other women down. "Keep that chain going as women. Bind
together. Bond together and just be a friend."
"Education for me is very, very important. You have to fuel your mind
and the rest will follow," said Curry, who founded the school that all
her children attended when they were the same age as the girls in the
audience.
Next, Parker shared an example from her University days that
highlighted the benefits of working hard in the classroom. "[We had a
rule] at the University of Tennessee where girls from the team had to
sit in the first three rows of class. Because guess what? You can't
sleep in the first three rows. The professor gets to know you because
you're always sitting in the same seat, and later, when you need advice
or a mentor, they're willing to help you because they know you've put in
the work."
Responding to Parker's story, Coulson added, "In this day and age,
there are many more women in business moving up through the ranks and
setting an example. Look for them and ask questions. Be visible. Be in
that front row, like Candace said. You can ask questions in a business
setting the same way you can in school."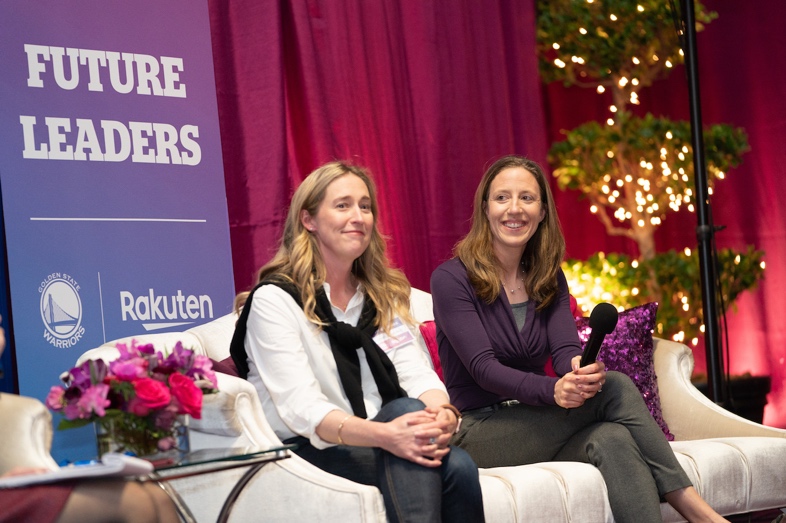 Speaking
to a crowd of young women from Girls Inc., Adrienne Down Coulson (left)
and Lindsay Gottlieb (right) stressed the importance of staying true to
yourself and pursuing your passions.
Coulson credits her parents for encouraging her to pursue her
passions when she was younger, which happened to be English and writing.
"There was a little bit of magic in not being too focused or stressed
out about what I'm going to be when I grow up."
Her first week in university, she joined the school newspaper, where
instead of writing or editing stories, she focused on the business side.
For the next four years, she worked 40 hours a week on top of a full
course load, eventually rising to the ranks of managing editor. This
gave her a passion for and understanding of business, which — paired
with valuable coding skills — led to great success in the tech world.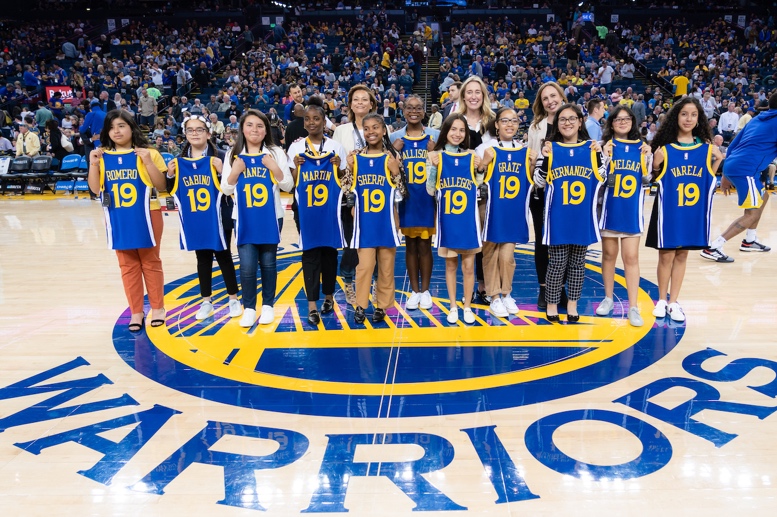 Girls
Inc. of Alameda County with Sonya Curry (back left), Adrienne Down
Coulson (back center) and Rakuten director of sports and entertainment
Kristen Gambetta (back right) being recognized on court during halftime
of the Warriors game on March 31.
Warriors And the
Girls Inc Win Big
Following the panel, the girls met up with mentors to prepare for the
game. From ticketing and VIP services to on-court programming,
participants experienced firsthand what goes into putting on a
world-class sporting event.
After putting in some solid work with Warriors staff, including a
sideline pitch for audience members to download the Rakuten Viber app
that showed on the Arena Jumbotron, the young women and their mentors
retired to the Rakuten suite to take in the action.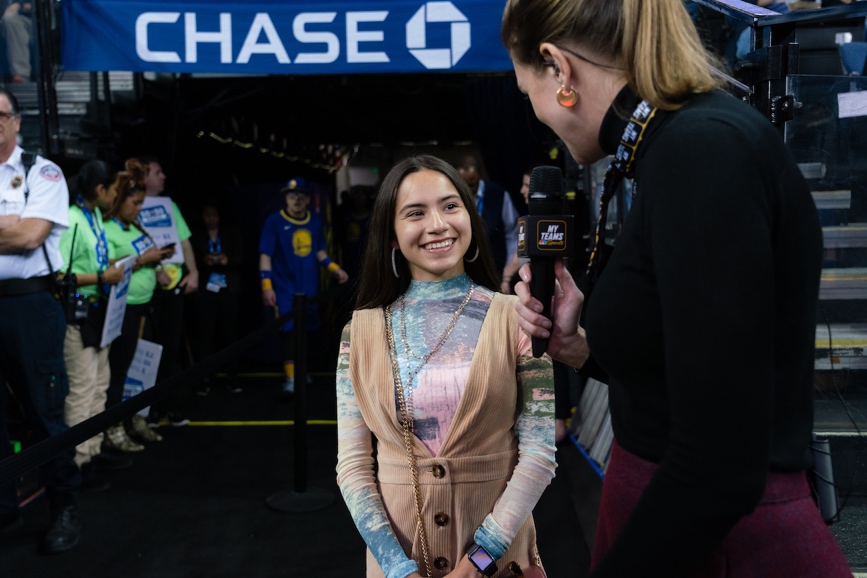 Girls Inc. participants didn't just work behind the scenes; several were featured live on the Arena Jumbotron before the game.
They watched with delight as their hometown Warriors defeated the
Charlotte Hornets 139 – 90, their largest margin of victory for the
season.
For the future leaders of Girls Inc. of Alameda County, it was yet
another highlight from an unforgettable weekend with the Warriors.
If you consider yourself as a passionate online shopper like myself,eBay has amazing deals on the best products.I hoped you enjoyed theWNBA Girls-Her Time To Play Inspiring The Next Generation Of Ballers article and if you have any questions want to leave a comment or want to leave your own  personal review,please leave a comment below .
Thank you,
Erick Darke
by