Nike Signed University Junior, Who Has Cerebral Palsy, To A Athletic Shoe Contract
Justin Gallegos' goal is to become one of the few runners in the world with cerebral palsy to complete half-marathons unassisted and in record time.
Justin Gallegos became the first professional athlete with cerebral palsy when Nike signed the University of Oregon club runner to a surprise contract.
He is originally hails  from Santa Clarita, California, which is where he first got into running at the age  of  14 as a student at Hart High School.
Entered running in a cross country meet when cameras captured Justin  getting over the  finish line for that amazing moment.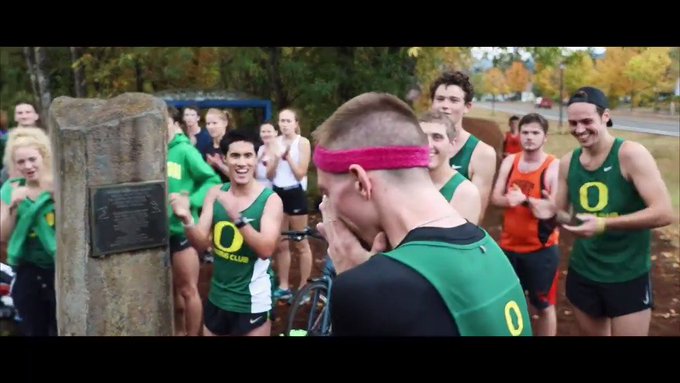 The young man did not  know, representatives from Nike brand  were waiting for him at the finish line with a professional contract.
A Nike footwear marketing manager, presented the contract to Mr. Gallegos after an Oregon running club practice, while a film crew covered  the momentous occasion  and  emotional moment on camera. The video of Gallegos receiving the contract was posted on October 6 World Cerebral Palsy Day.
Cerebral Palsy is a neurological disorder that affects movement, motor skills and muscle tone, and it varies greatly in severity.
The college junior wrote on his Instagram account , that "This was perhaps the most emotional moment in my seven years of running! Growing up with a disability, the thought of becoming a professional athlete is as I have said before like the thought of climbing Mt. Everest! It is definitely possible, but the odds are most definitely not in your favor! Hard work pays off! Hundreds of miles, blood, sweat, and tears has lead me here along with a few permanent scars!"
He is humbly enjoying  his new professional status.
"I'm sure once I start getting more involved it will fully sink in," he said via FaceTime, rather than  speaking on the phone. "But for now, I'm more in shock that it's happening. I knew they were thinking about giving me a contract, but with something like that, you don't expect it to happen."
"THE REASON I NEVER QUIT OR EXPRESSED INTEREST IN QUITTING IS SIMPLY BECAUSE I SAW THAT [RUNNING] WAS DOING MORE GOOD IN MY LIFE THAN IT WAS DOING BAD."
Gallegos said he is not allowed to disclose the terms of his deal.
"When I first set out running, the goal was never to become a professional athlete or even a college athlete," he said. "[It was] to become a stronger person and improve my quality of life.
"Before, I would tilt my feet inward a lot and that would cause me to fall down quite frequently. I would drag my feet frequently as well in the beginning. I did fall two to three times per week for awhile, but eventually, the reason I never quit or expressed interest in quitting is simply because I saw that it was doing more good in my life than it was doing bad."
As a child, Gallegos took karate classes and equestrian for special needs individuals. He joined the high school cross-country team "to be involved and get stronger" and saw his times drop from 29 minutes over three miles as a freshman to 25 minutes as a senior.
Now, as a junior on Oregon's club team, he races 5K on the track, 8K in cross country and half marathons on the roads. He set his personal best of 2:03 at the Eugene Half Marathon last year and hopes to break two hours in 2019.
Gallegos and his manager have also debated moving up to the marathon.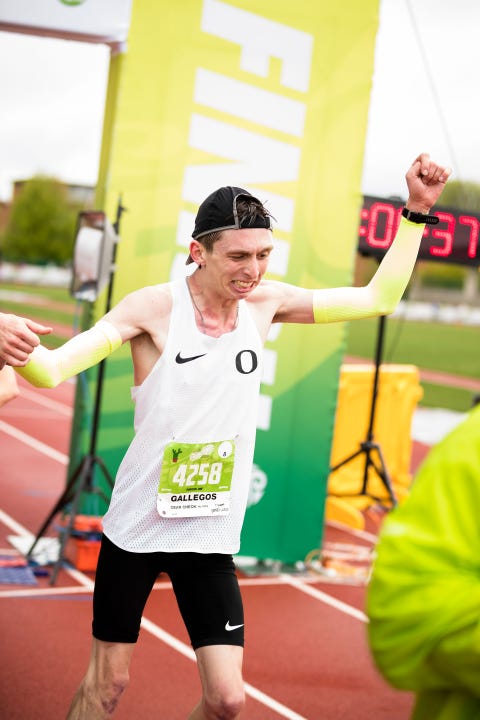 Justin Gallegos completes in the Eugene Half Marathon.
"We've discussed me possibly running the Chicago Marathon a year from now," he said. "It is definitely a possibility. I want to do a marathon, and hopefully Chicago is my first one."
Mo Farah ,the most successful British track athlete in modern Olympic Games history, he is the 2012 and 2016 Olympic gold medallist in both the 5000 m and 10,000 m. Farah is the second athlete in modern Olympic Games history, is one of Gallegos's idols. So is top American Galen Rupp, who was fifth this year after winning in 2017.
But Gallegos's favorite runner by far is marathon world record holder Eliud Kipchoge.
Though they were filmed separately Gallegos was in a ad campaign  earlier this year for Nike, playing off Kipchoge's attempt to break two hours in the marathon with Gallegos's quest for a minus -two half marathon.As part of the same project, Gallegos helped Nike develop a specialty running shoe for people with disabilities with Nike, called The Nike Air Zoom Pegasus 35 FlyEase"He is just one heck of a dude," Gallegos said of the Kenyan runner. "I hope I can meet him one day. I give him all
It turns out that Kipchoge feels the same way about him.
As Gallegos's inspirational story went viral across the internet last week, dozens of top professional runners reached out on social media to send their congratulations—including the "sport's philosopher king" himself.
.
If you consider yourself as a passionate online shopper like myself,eBay has amazing deals on the best products and exercise equipment . I hoped you enjoyed theSigns Cerebral Palsy-Justin Gallegos In Shock From His Surprise Nike Contract article and if you have any questions about the post want to leave a comment or want to leave your own personal review, please leave a comment below
by