90s Street Fashion Key To New Nike Olivia Kim Nordstrom Partnership
Launched in October 2013, Pop-In@Nordstrom is an ongoing series of themed pop-in shops that transitions every four to six weeks to offer a new shopping experience and batch of new, often exclusive merchandise. Pop-In takes two forms: a shop curated around a theme featuring brands across different product categories (fashion, beauty, lifestyle, home/garden, sports/outdoors, etc.), or a partnership with a single brand to bring "the world of" to customers.
Pop-In@Nordstrom was the first initiative from the Nordstrom Creative Projects team, under the direction of Olivia Kim (Vice President of Creative Projects). In her role, Kim focuses on creating energy, excitement, and inspiration throughout the retailer's national locations. Pop-In@Nordstrom was built on a monthly rotation to keep customers coming back to discover new brands, new merchandise and create a fun and compelling experience in stores and online. Each shop features a mix of hand-picked merchandise spanning the high/low price range, with price points often starting at $5.
Innovative Look To Classic Nike Footwear Styles
Vice President of Creative Projects at Nordstrom Olivia Kim is set to deliver fresh takes on five classic Nike footwear models for her latest Nike by Olivia Kim collection launching later this month.
Dubbed "No Cover," this capsule will incorporate the Air Force 1 Low, Air Mowabb, Air Max 98 as well as the Air Jordan 4. According to the brand, Kim's selection of silhouettes is inspired by her love of '90s New York streetwear style, a time where a majority of the avant-garde designs were made for men and where she could never find the shoes she wanted in her size.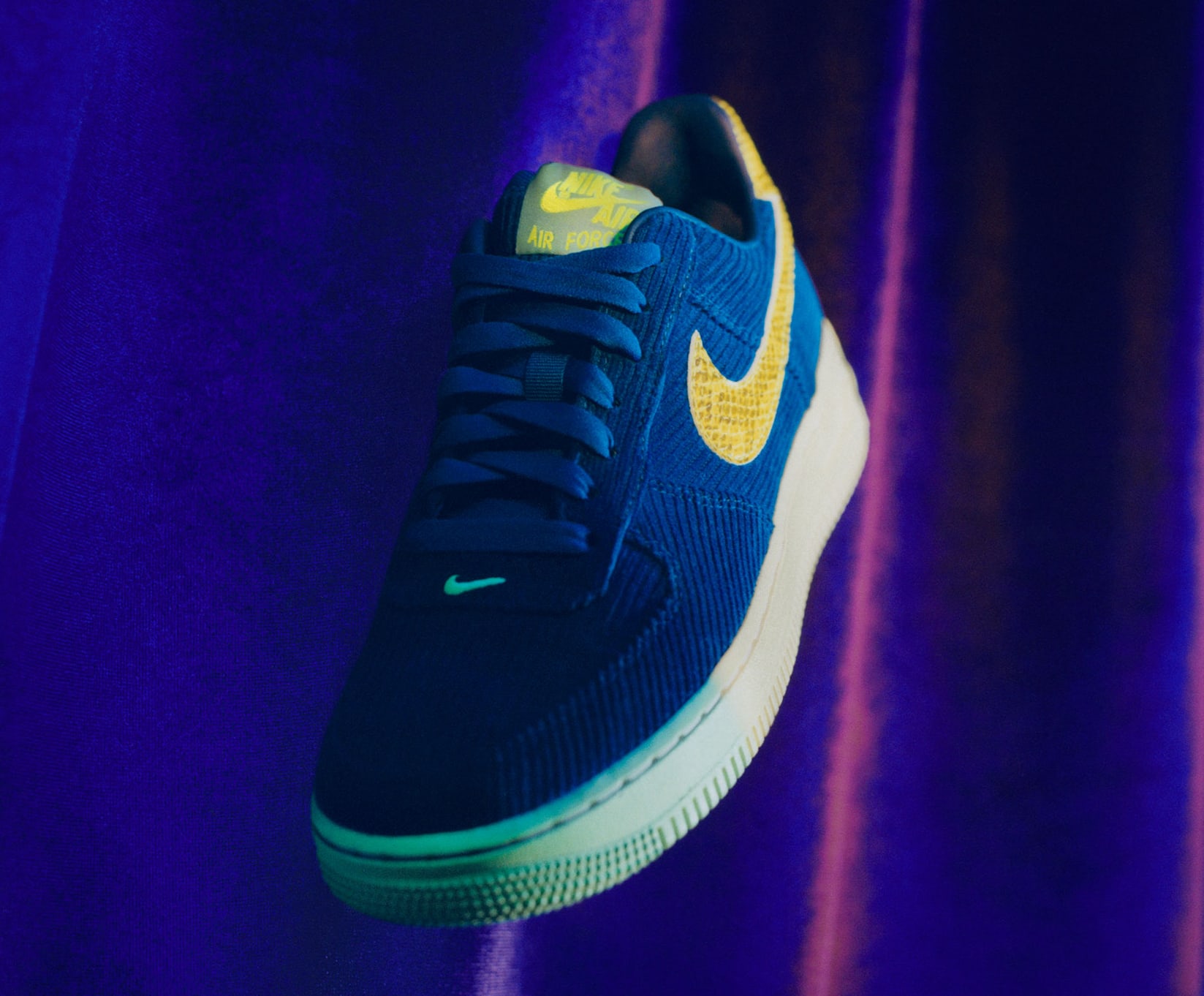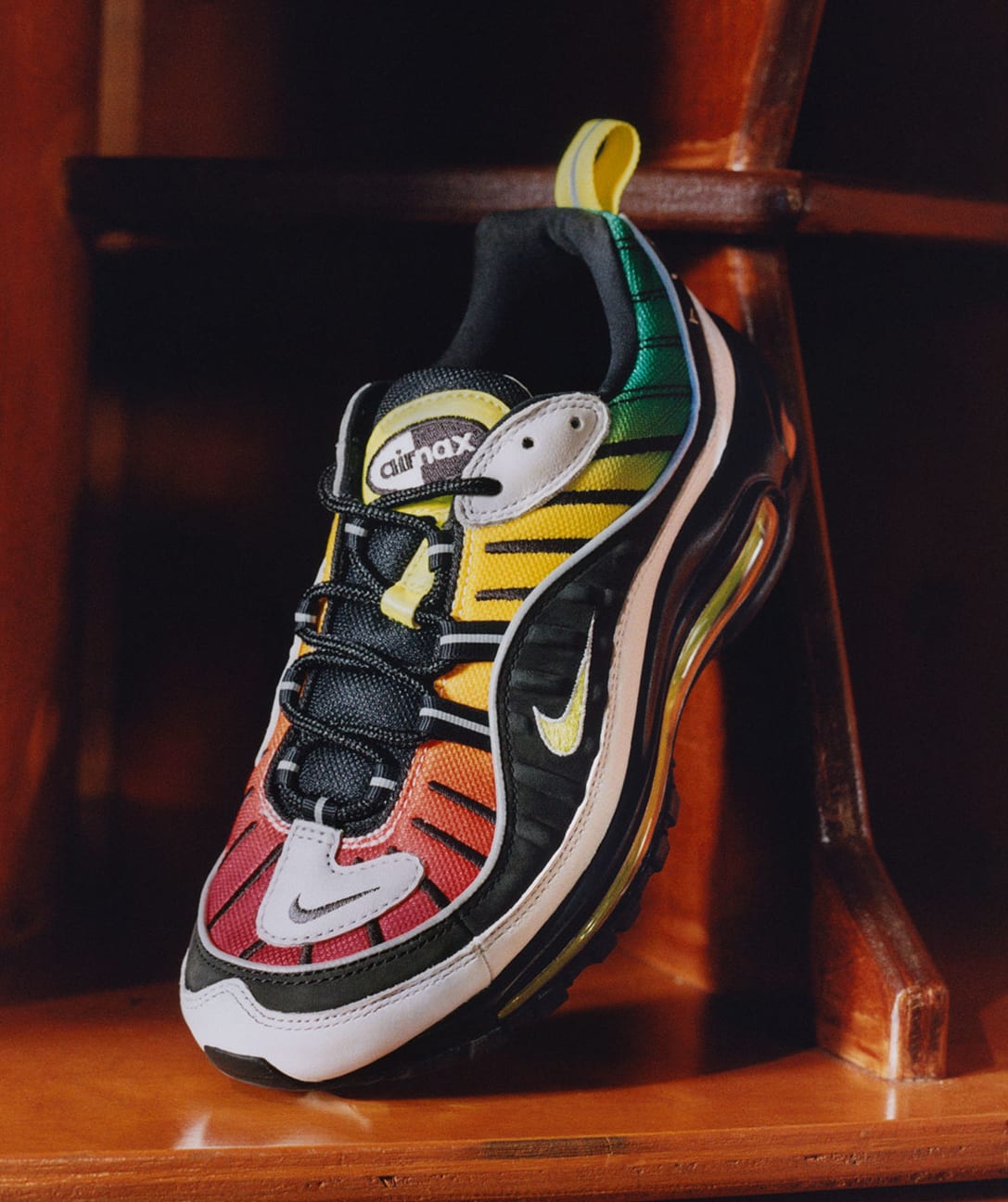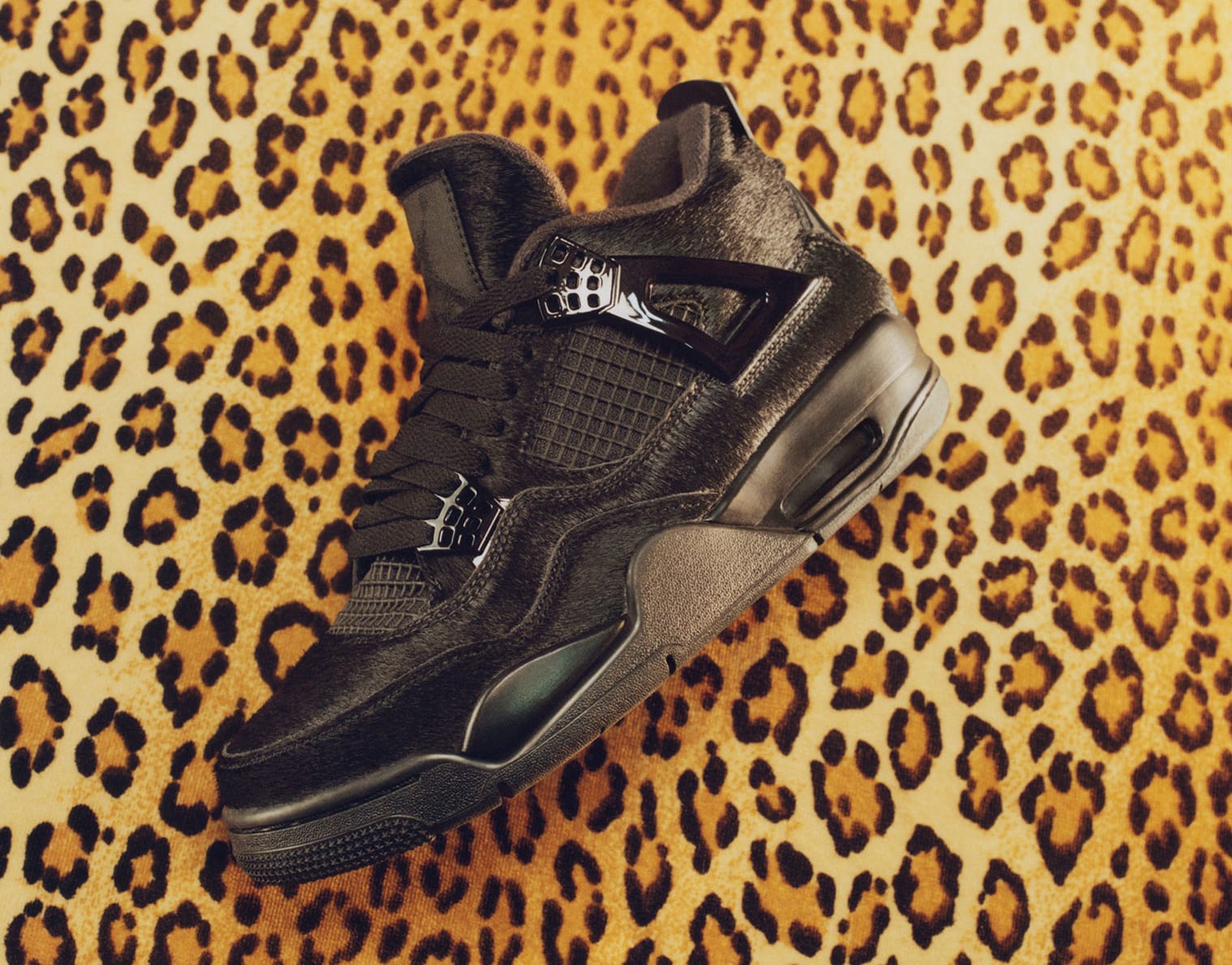 Kim also reflects on her past self's eccentric teenage wardrobe with an accompanying apparel collection including vibrantly colored graphic tees and hoodies as well. "The collection, in a sense, very much matches the personalities of these people who inspire me," says Kim. "It's amazing to have Megan Rapinoe, John Waters and Binx Walton as faces of the campaign."
The entire collection will be available exclusively at eBay.com on Oct. 31. The collection will also drop in additional North America stores and globally on November 8.
Air Jordan 4 Pays Honor To The G.O.A.T. Micael Jordan
Nordstrom's very own personal eccentric, Olivia Kim, has cooked up one of the most expansive collections from all over the Nike umbrella. While bringing out oft-unseen classics like the Mowabb and the Air Footscape, the Creative Projects Vice President also saw it fit to pay homage to one of the largest legends in the game of basketball: Michael Jordan. Living in New York City, Kim found it hard to escape the tremors made from each of MJ's very own steps, ones that earned him the nickname of "Black Cat," and with each silhouette its own inspiration, her upcoming Air Jordan 4 is a spin on that very same epithet. Simple at first glance, the scheme does little in the way of color as it favors a full triple black treatment. Instead, each of the upper's panelling is shrouded in a maximal dress of pony hair, only broken up by the glossy cage overlays as well as the inner webbing and heel tab, the latter of which sports the OG Nike Air Futura logo. Grab a detailed look at her take on the iconic model right here on October 31st.
Olivia Kim x Air Jordan 4 Release Date: November 8th, 2019 @ eBay.com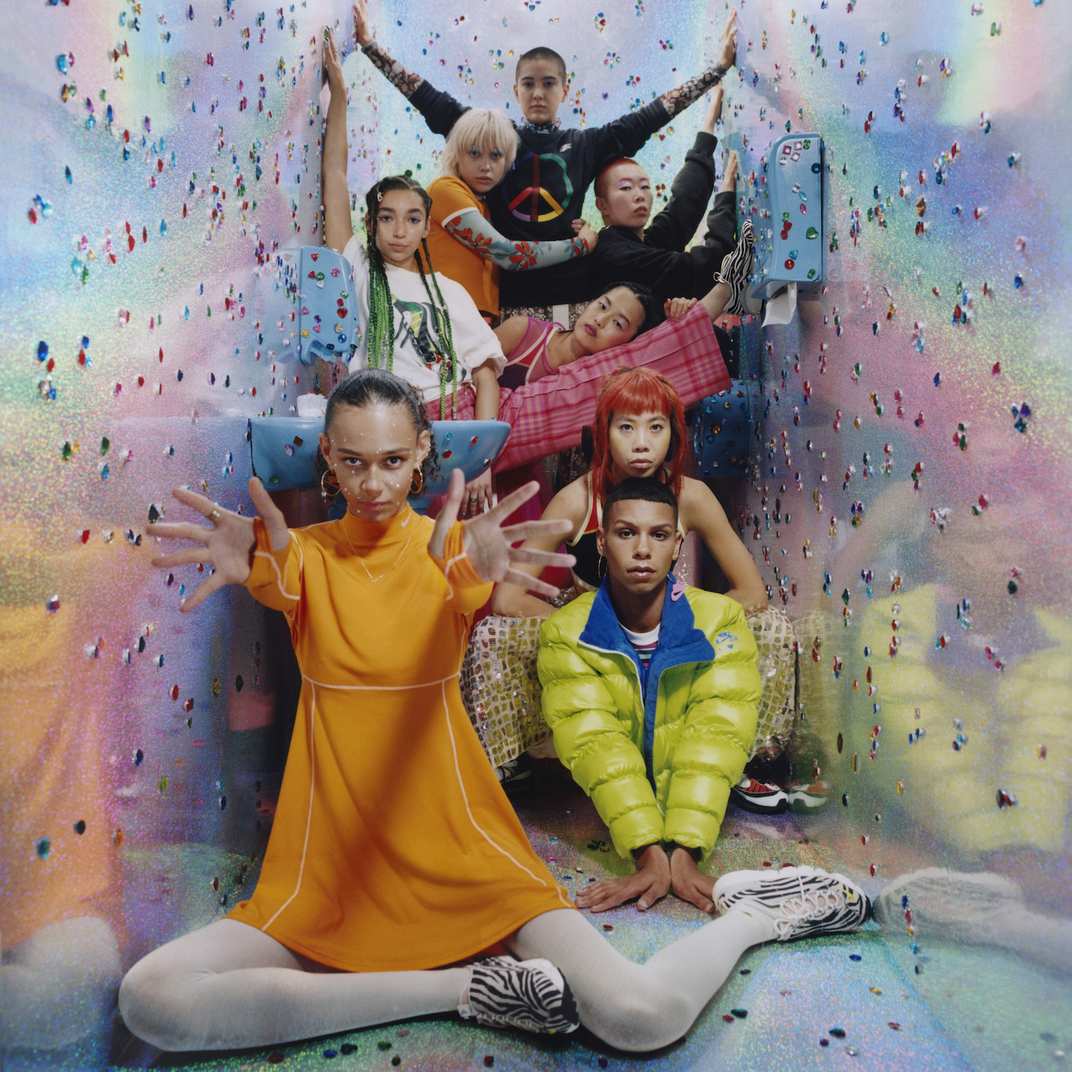 Nineties nostalgia is huge at the moment thanks to Olivia Kim, Nordstrom's VP of creative projects.The era represents her teen years growing up in New York City. At the time, you could see different style tribes all over downtown Manhattan. A short walk would take you from the skaters in Washington Square Park to the grunge-inspired shoppers rummaging the vintage racks at Antique Boutique to the punk kids hanging out at St. Marks. This mishmash of hip-hop, rave, and DIY culture serves as the inspiration behind Kim's new collaboration with Nike.
Under Kim, Nike and Nordstrom have partnered up for special drops and shop-in-shops in various locations, but this marks the first time she's been asked by the brand to design a collection. Naturally, there are sneakers: five of Kim's favorite style, all reimagined in new fabrics and colorways. For collectors, the most prized item will be the Air Jordan IV in black pony hair. Kim's version swaps out the traditional Jumpman logo and features a throwback Nike emblem from the '90s. It's a rarity for the brand as very few people are permitted to use the archival design.
Which is not to say that that the other sneakers don't feel special, too. The pink-and-zebra print Air Footscape is a nod to punk culture. The Air Max 98 gets the rainbow treatment, as inspired by dance hall culture. Kim takes the well-loved Air Force 1 and remixes it in blue corduroy and acid yellow snakeskin, while the Mowabb hiking shoe gets enlivened with splashes of red and teal. Both of these sneakers also have another special element: a matching Betty Boop hang tag. "Not only does she represent unapologetic women but she's also a throwback to '90s club flyers, when we'd adapt iconic imagery and logos," explains Kim.
Betty Boop also appears in the 13-piece clothing collection, popping up on sweatshirts, a baseball shirt, and on the sleeves of the two cropped puffer jackets. To round it out, there's also a color-blocked sports bra, a T-shirt with the same peace symbol as seen in a 1992 commercial, and a bright orange baby tee. And because the collection is meant to be accessible, the most expensive item will be the pony hair sneakers, topping out at $225.
To celebrate the launch, Kim gathered an eclectic group to star in the campaign, including model Binx Walton and  actor John Waters plus street-cast kids. The setting is a rave, complete with black lights, disco balls, and surreal props like a giant pineapple. Even Binx's face is covered in rhinestones a nod to a party flyer Kim keeps in her archives.
You can shop the collection starting on October 31 at Nordstrom's new women's flagship in New York City. Nike x Olivia Kim will reside in the Nike x Nordstrom boutique. Located on the first floor, it'll have its own separate entrance as well as very distinctive décor. "We're always being filmed in the city, so we decided to play on that by having out own bank of cameras capture you as you enter," explains Kim. A series of television monitors will display customers' shoes when they walk into the boutique. The space itself is decked out in David Lynch–style red-velvet upholstery — it's a custom design that has bits of Nike iconography like basketball courts. To complement the lush fabric, shoes are set in cool pink marble displays while the curvy mirrors (inspired by Louise Bourgeois) dot the space.
And you'll find more than just sneakers, "Our girl will throw on Nikes with a Sandy Liang coat or Eckhaus Latta jeans, and I want this space to reflect that," says Kim. Those designers will be mixed in with other up-and-coming brands like AMBUSH, Kkco, and Susan Alexandra, along with beauty finds and other little gifts.
If you're not in New York, you can also find the full collection on October 31 on eBay.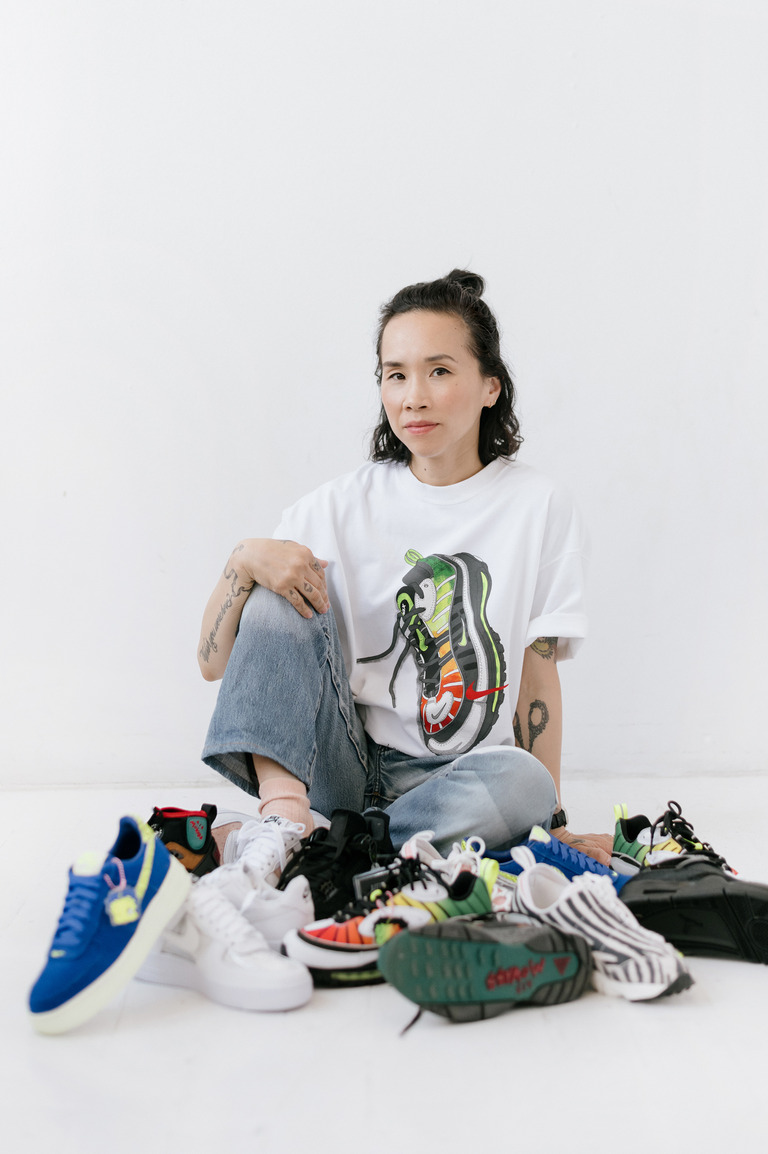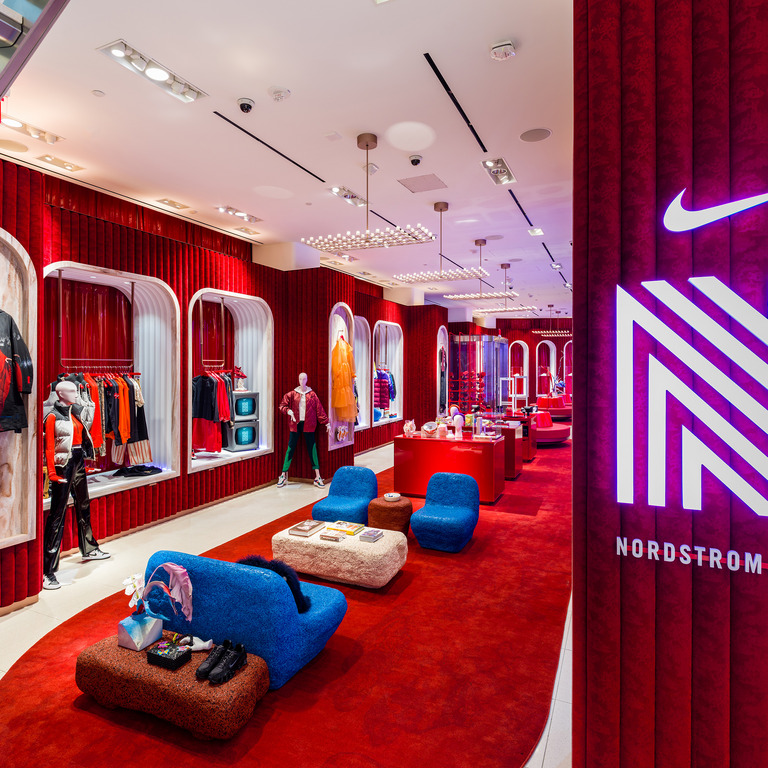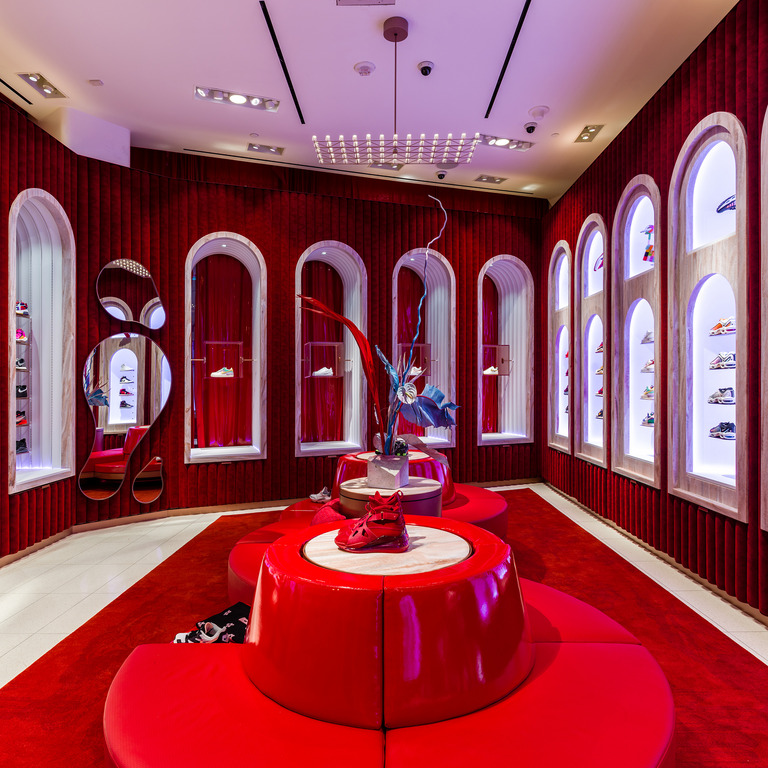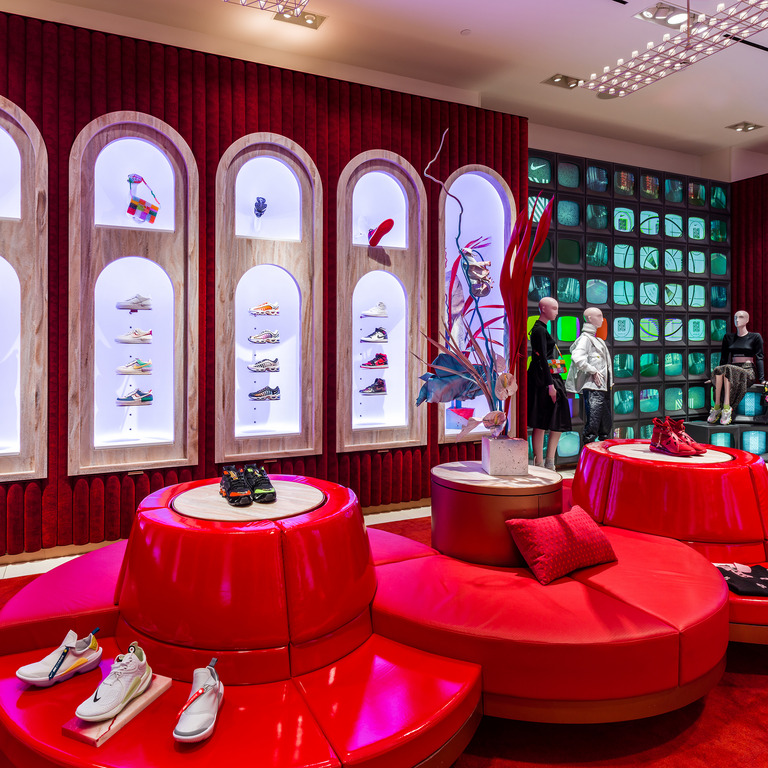 If you consider yourself as a passionate online shopper like myself,eBay has amazing deals on the best products.I hoped you enjoyed the Nordstrom Nike Women-Olivia Kim's '90s Nike X Nordstrom Collection article and if you have any questions want to leave a comment or want to leave your own personal review,please leave a comment below .
Thank you,
Erick Darke
by