Any Man or Woman Can Learn How to Dunk a Basketball
There have been a few women who have dunked a basketball during a WNBA game, but its so infrequent and only a small handful of women have done it. Lisa Leslie and Britney Griner have threw down in a real match  .Maya Moore and Candace Parker  both dunked during  The 2013 WNBA All Star Game pre game warm-ups to name a few.
Most were over 6 feet tall and barely need to get off the ground to put the ball in the basket. If a point guard wanted to make a name for herself and secure a better than average contract all she would have to do is work on her vertical leap and start dunking right?. Seriously WNBA should give a 5k bonus for every dunk in a game until it becomes a way more common place. There are guys who are 5'5″ that can  dunk but women who are under 6′ aren't even close. I know men are naturally stronger but a trained woman can out class many untrained men. So it's totally understood that if more women were to practice how to increase the vertical jump early as in high school they could stack up against any male player in high school ,Jr College or a Div 1 A College for that matter .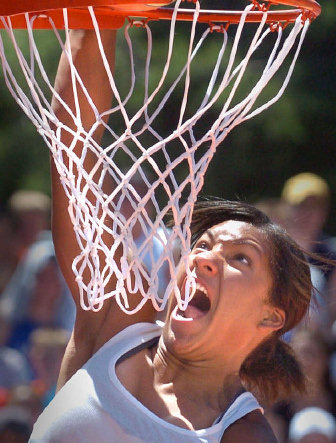 It makes sense but it is also something purely anatomic. Women and men have two types of muscle fiber:fast twitch fibers and slow twitch fiber. Slow twitch fiber are linked to our endurance and fast twitch fiber are important for human power. A man simply have a higher ratio of fast twitch to slow twitch fiber, providing them the ability to jump higher than when compared to a woman. Also, men are able to more muscles during motion.
The average height of a woman in the WNBA is 6ft (1.8288 meters). It wouldn't even raise an eyebrow for a 6′ man to dunk. The disparity seems so wide it doesn't make sense. For example, I get that the fastest male sprinters are faster than the fastest women for the reason of muscle fiber types and overall muscle strength due to testosterone, but the gap is not that  large as it may seem . It would be very hard to find 1, 16 year old male who can beat 99% of all women's 100m sprint times records. Again I would assume the very similar anatomic factors would be at play in respect to sprinting and dunking (jumping), yet it would be a bit  easier to find at 16 year old 6ft male who can dunk better than 99% of all female pro basketball players who themselves average 6ft tall.
Anyone Can Learn How to Dunk a Basketball
When it comes to the sport of basketball achievements we all hope to reach at one point during our lives, learning how to dunk a basketball is likely to be high on the hoops bucket list. For players those not being very tall, being able to touch that net could seem like a dream that's just far too distant for you to ever truly get your hands on. However, average-sized men and women are just as capable of dunking a hoop as any other 6 foot plus giant. Dunking your first basketball can be an amazing and truly memorable accomplishment – but how do you go about training yourself to meet that feat?
How to Dunk a Basketball – The basic 3 Best Exercises for the Vertical Jump
Height is often considered to be the most crucial factor when it comes to honing your skill as a basketball player – but it's important to remember that athleticism also plays a crucial role. There are a number of influential factors that can alter your ability to dunk a basketball – from how high they can jump, to how well you can throw. Just as a shorter guy is likely to have less of a shot unless he has some serious jumping skills, a taller guy won't make the hoop either unless he has a little athletic ability.
Dunking isn't something that everyone will be able to achieve with the greatest of ease, but most men – tall or short – do have a chance of pulling it off with the right training. Remember, no matter how hard you try – there will sometimes be variables that throw you off point. Sometimes, your legs aren't up to the challenge, other days, you don't have the right shoes for figuring out how to dunk a basketball, or the ball you choose is tough to grip. Whatever happens – don't let yourself be worn down.
Being in shape is a fantastic way to begin your journey towards becoming a dunking high-flyer, there are a number of specific exercises that you can keep in mind when enhancing your fitness. Most experts suggest that when you're learning how to dunk a basketball, you should start with building your basic strength level. This is something that can be done through a number of common leg exercises, such as:
Lunges
Hamstring curls
Squats
Once your core strength has started to build, you can increase your vertical abilities by focusing on your power. For those unfamiliar with the term, power is defined as a combination of your strength and speed, the exercises that enhance these factors include squat jumps, bounding, skips, and anything that improves your leg power.
Get Ready for the Jump
The next step in learning how to dunk a basketball, is figuring out how to get as far off the ground as possible. Catching that net means propelling yourself off the floor with fantastic power – especially if you're a little shorter than average. Usually, players can get highest from the ground when they jump from one foot and reach with one hand. If you're right handed, this typically means propelling yourself from your left foot with the ball in your right hand. However, if you find jumping from both feet to be more comfortable, then you may find that this method works better for you – so don't be afraid to experiment with techniques.
If you're not sure about your athletic potential, try reaching the net without a ball to begin with so that you can get the hang of your jumping techniques. Hopefully, you should eventually be able to touch the rim, and this will give you a good idea of your ability to dunk a basketball.
Controlling the Ball
Once you've mastered your strength and your jump, the final step in discovering how to dunk a basketball effectively is managing your control over the ball itself. Handling the ball may seem like the easiest part of learning how to dunk a basketball, but unless you know how to palm the surface properly, you'll struggle at the final moment – a lot of players find that they lose the ball at the last moment in mid-jump, making the attempt useless.
Be careful to focus and work at your skill – the chances are that you'll get frustratingly close to the perfect dunk a number of times before you manage to get a clean one under your belt. Try not to get annoyed with yourself if you find that your fifteenth attempt wasn't as good as your fourth – that's perfectly normal. Simply work hard, keep training, and keep your confidence levels high – when you finally master how to dunk a basketball and get that amazing experience, you'll find out that it was all worth it in the end.
Ways To Improve Your Vertical Leap
For anyone that has taken part in the game of basketball, then improving your vertical jump is not only a necessity but a great benefit.Included are a number of tips and tactics that can be followed in order to improve your vertical leap.
If follow just a few of the tips here in this post they are guaranteed to produce results for you if you are trying forward to improve your vertical jump.
The first and the foremost thing that you have to do is measure your current jump so that you can track the improvement over time. After measuring your current jump, you should start building your lower body muscles which are primarily put to use while making a huge vertical leap.
Starting with jumping  rope is a super idea. Although it sounds so obvious or not that glamorous, though, if you really become consistent with jumping rope, it is certainly going to help build your leg muscles.
Ensure that the floor is hard and that you are performing the exercise for at least 15-20 mins per day. Squats are probably the first thing that comes to mind when you think of improving the strength in your leg muscles.
Continue training your lower body is your ultimate goal to improve your vertical jump. And nothing can train your legs better than the squats. Beginning with three sets of ten squats is what is recommended and you are supposed to increase the reps and sets with the passage of time as the stamina develops. In order to build your calf muscles and enhance their strength, a simple exercise of standing on your tips and complete foot alternatively for 15-20 minutes per day is recommended.
One should be raising slowly to the tips of the feet and then slowly moving back to the normal standing position. Performing the exercise in rushed manner will not produce the desired results. Must also mention here that weight training is destined to improve the quality of results that you may expect out of such exercises as far as improving your vertical leap is concerned. Some people however actually have ended up improving their vertical jump without having to weight train.
It is very critical that you are practicing the vertical jump several times a day and are trying to make use of your extended arms as much as you can to increase the momentum. Rest assured, now you know how to increase vertical jump. Practice makes perfect and that's exactly what you are going to get.
Most professional sports leagues use vertical jump tests to evaluate their players. Interestingly, of all the tests the NFL put their players through; it's the vertical jump test that most accurately predicts which football players will be most successful careers. Most athletes, specifically football players, learn how to jump higher, they're honing their explosive power, and it's that power that makes a successful athlete regardless of the sport.
A good program teaching how to jump higher generally starts off with recommendations on strength training, and what do strong muscles possess, if not power? The explosive part comes from learning how to release and apply that power quickly. Storing and releasing force, and suggests perfecting various landing techniques if you want to learn how to jump higher because it is in a proper landing that you are able to effectively absorb and redirect force for the purpose of executing an explosive vertical leap.
Exercises you choose to teach you how will only aid in your success. The most recommended Plyometrics exercises used tend to be explosive. That feature makes them useful because, by perfecting the exercises you'll be perfecting form in general that can be applied to a good vertical leap. Various squat jumps, such as broomstick squat jumps and barbel, are extremely practical. Basic squats aren't necessarily jump training but, if you are able to increase the barbells resistance you used to do them and still maintain proper form while performing them rapidly, basic weight room exercises can help you learn how to jump higher. Many plyometric exercises incorporate jumps and those, too, are effective for improving your vertical jump. Depth and box jumps, as an example, should be included in any higher jump program if you seriously aim to improve your vertical jump.
For Female Dunkers The Future Looks Bright. Regis Jesuit Girls Basketball Star Fran Belibi Is Transforming The Game With Dunks And Her  Above The Rim Athleticism.
Fran Belibi ,who is currently 6-1 and age 16, was a sophomore when she became the first ever girl to dunk in a high school game in the State of Colorado on Jan. 6, 2017. Also, repeated that again in the playoffs that same year. Let's just say people took notice.
She's only been playing the sport for 21 months "In Colorado, girls come to the games to watch me dunk," she said. "It's a huge honor for me. Girls need inspiration.
They take photos with me and want to meet me. The girls' game has grown so much. With me showing that a girl can dunk in a game and that the game can be played at or over the rim, it can be opportunity for other girls to do it, too. All they have to do is put their mind to it." Belibi, who won a gold medal with Team USA last summer at the FIBA Americas U16 championships in Argentina, explained her own mindset on how she can tell if the time is right to dunk. "I try to get my footwork correct. It's usually three dribbles from half court," she said. "Then I have to concentrate on keeping the ball in the hoop so it doesn't pop back off the back iron.
The feeling of you being that high off the floor, over 10 feet, it's just an amazing feeling. It hypes you up, hypes your teammates up, hypes the fans up." She is never is satisfied with her repertoire. "I'm working on different dunks, perhaps a two-handed dunk," she said. "But that is a challenge because you have to get up even higher. You have to really get your legs into it. Belibi, only picked up the game of basketball as a high school freshman, still has a senior year at Regis Jesuit, and she wants to win a state title. Regis Jesuit lost in the state championship this past March to Grandview (Aurora). Beyond that, Belibi hopes to be chosen for the McDonald's All American Games and the Jordan Brand Classic. For the dunk contests, Belibi is all in. "If selected, I want to be in the dunk contest with the boys," she said. "I don't think the girls should have their own dunk contest. I feel that there is more hype by having the boys participate."
If you consider yourself as a passionate online shopper like myself, Ebay  has amazing  deals on the best products and exercise equipment.I hoped you enjoyed the How To Increase Vertical Jump article and if you have any questions about the  post  want to leave a comment or want to leave your own personal review,please leave a comment below .
Thank you,
Erick Darke
by