Transfer Portal Has A New Evolving Culture In College Athletics
What happens when college basketball players transfer from one school to another, and why some are allowed to play for their new school right away and others aren't.
Transfer Movement Has Sky Rocketed Recently
2017-18 season had  5,537 athletes playing Division I  basketball with  transfers  at the 689 mark .
Schools  in 2018 had submitted 71 waiver requests, with 17 that were  still awaiting a decision. Of those that have been process, 52 percent were approved.
Traditionally student athletes competing in men's basketball in all divisions make up 20 percent of all transfer waiver requests received by the NCAA.
Incresased requests for the waiver requests vary in each case.Ranging from environment,financial matters ,coaching carousels,mental health and illness or injury problems are a few  common situations .  With each of these categories, NCAA member schools have adopted guidelines that help NCAA staff make the right decision.
NCAA  Intention Is To Not Punish Players
When it comes to transfer decisions, there is never an easy answer. And all transfer waivers allowing student-athletes to play immediately are not created equal. The reason for a waiver request may have merit, or it may not reach a threshold for approval.
In the transfer waiver process, though, there is no intent to punish an male or female athlete, rather ensure they are best positioned to succeed both on and off the court. Alot of student athletes benefit socially and academically from a transition period after transferring according to resaerch that was  done by the NCAA
It's critical to understand that no two waivers are created equal. NONE. And don't expect the NCAA staff or the school to divulge the reasons. These are kept private in accordance with federal student privacy laws. If the student-athlete wants to divulge the reason, then that's up to him or her.
To allow competition immediately after transfer between two four-year schools, there must be mitigating circumstances outside a student-athlete's control. Academic records are considered as part of waiver requests to increase the chances of a seamless academic transition. The previous school's stance on the transfer also is considered. When medical issues are referenced in a waiver request, NCAA staff members rely on documentation provided by the school, which often includes opinions from relevant subject-matter experts. For example, when a transfer waiver request is related to a medical need, a treating physician might offer an opinion.
And NCAA staff members review each waiver request independently – with a focus on what is best for the student-athlete.
The transfer waiver environment has evolved over time. The current student-first philosophy started under the leadership of late NCAA President Myles Brand and continues to increase at the direction of current President Mark Emmert. This philosophy influences all the work at the national office, including waiver decisions, resulting in an increased approval rate.
For all the talk about how unfair the system is, it can be changed only by NCAA members, not the NCAA staff. And the position of the membership continues to change. Earlier this year, the Division I Council showed some flexibility in the transfer space when it adopted a new process allowing student-athletes to transfer and receive aid without having to seek permission from their current school. Over the next year, that same group will consider several other proposals making immediate competition after transfer automatic in some specific cases.
The public frustration is real when one student-athlete gets approval to play immediately and another doesn't. The cases on the surface may look similar, but what is not always known are the specific facts and how they were presented. What documentation was given? How did the former school support the player?
To cast a wide net and say the NCAA didn't get a decision right is often a popular and easy position. This isn't to say that there is never a wrong decision made. The process continues to be imperfect. No formula or algorithm exists that makes decisions. NCAA staff members consider each situation individually and make the best determination based on the facts that were presented. Protections for student-athletes prevent all the details from being shared publicly.
If there is a movement to offer a one-time transfer, without restrictions and in all sports, then the lobbying should begin. Getting coaches, athletics directors and conference commissioners on the same page agreeing that everyone can freely leave, regardless of the circumstances could be a tough sell.
There may be a less drastic change for 2019-20 as the Committee on Legislative Relief reviews the current trends and guidelines. The size of the change will depend on whether or not the membership — yes, the coaches and administrators — really want to agree on the opportunity to move freely within the sport and college landscape.
No school or coach seems immune from transfers, as they occur at mid-major colleges and large institutions alike, and under newer coaches as well as Hall of Fame coaches. If it seems like it's easier to count programs that haven't had transfers, the data shows why.
After several years of holding steady below eight percent, the four-year college transfer rate for women's basketball began to rise in 2010-2011, and shows no sign of slowing down. For many years, the transfer rate for student-athletes from two-year colleges was higher than from four-year colleges, but that pattern reversed in the 2011-2012 school year. Given the most recent data available from the NCAA, 2014-15 ended with nearly a tenth of women's college basketball players transferring from four-year colleges and 8.4 percent coming in from two-year colleges.  These rates are comparable to men's college basketball, with four-year and two-year college transfer rates of 14.1 and 15 percent, respectively, for the sea
The Rule For  Student Athlete Sitting  Out A Year Of Competition After Transferring Been Around For Decades
The sports themselves have changed over time. Because of the restrictive nature of the rule and the continuing evolution of the membership on this topic, waivers are necessary. And waivers must have parameters.
In terms of departures by conference, Conference USA has had 216 players leave the league since 2012. The Ohio Valley is a distant second with 187 players, then comes the laundry list of power conferences. Just 39 players have transferred from the Ivy League, and 34 players have transferred from non-D-I programs to D-I programs.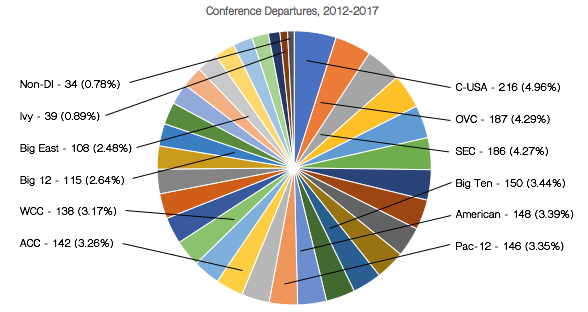 Also, the incomers…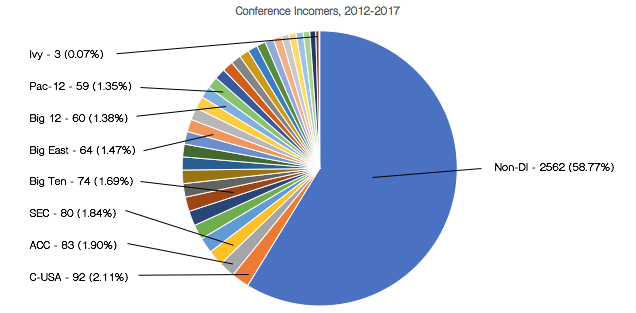 Nearly 60% of transfers, instead of joining other D-I teams, have left D-I basketball completely since the 2012 offseason. Then comes Conference USA, which has added 92 players. The ACC leads all power conference teams with 83 players transferring into the conference over the last six years. Only three players have transferred to Ivy schools.
 New NCAA  Transfer Rule Gives More Influence and Flexibility to The College Athlete
One time Coastal Carolina football player Nick Clark, who represents the Division I Student-Athlete Advisory Committee on the Division I Council, likes the transparency of the new rule."This creates a safe place for student-athletes to have a conversation with their coaches and makes the whole process more transparent," Clark said in an NCAA statement. "This will clean the process up and give more influence and flexibility to the student-athlete."The rule allowing football players to take a redshirt season even if they participated in four games goes into effect this season.Previously, a player would be ineligible to redshirt if they played as little as one play in one game. Now, coaches will be able to use a true freshman on a limited basis in up to four games and that player would still have four years of additional eligibility."This change promotes not only fairness for college athletes, but also their health and well-being," Miami athletics director Blake James, chairman of the Division I Council, said in a statement. "Redshirt football student-athletes are more likely to remain engaged with the team, and starters will be less likely to feel pressure to play through injuries. Coaches will appreciate the additional flexibility and ability to give younger players an opportunity to participate in limited competition."
Transfers Can Sometimes Be The Key Difference between Experiencing Early Tournament Exit Or Winning A National Championship
Jalen Hurts led Alabama to a 25-2 record as the starting quarterback. Yet, he struggled in the national championship game and was benched. Freshman backup Tua Tagovailoa led a 13-point comeback victory. Hurts was thrust into a fierce offseason position battle. He lost the starting role.
Hurts remained at Alabama. He bided his time behind Tagovailoa. He prayed for an opportunity to prove himself.
It arrived Saturday.
Tagovailoa suffered a leg injury in the fourth quarter of the Southeastern Conference championship game. Hurts replaced him, led a 14-point comeback victory and enjoyed a celebratory shower of confetti and redemption.
Staying at Alabama was not easy, but Hurts did the right thing.
Kelly Bryant led Clemson to 12 wins, an Atlantic Coast Conference championship and a College Football Playoff appearance last year. He started the first four games of this season but split series with freshman Trevor Lawrence. Before the fifth game, Bryant lost the starting role.
Bryant elected to transfer. He diligently trained and patiently entertained recruiting pitches. He prayed for an opportunity to prove himself.
Bryant announced that he will sign to play his final season at Missouri. Bryant will be fast-tracked to the top of the depth chart. He will fit well in the Missouri offense. He will bridge the gap between departing senior Drew Lock and unseasoned redshirt freshman Taylor Powell.
Leaving Clemson was not easy, but Bryant did the right thing.
Former Clemson QB Kelly Bryant poses during a recruiting visit to Missouri. The Tigers are one of the five finalists Bryant will chose from on Tuesday, Dec. 4, 2018. (Photo: Submitted)
Many of Bryant's detractors upheld Hurts' redemptive performance as confirmation of a laudable decision. They portrayed Hurts as the humble, loyal, compliant soldier who accepted the demotion graciously and quietly on behalf of the team.
They portrayed Bryant as the arrogant, perfidious, brash brat who selfishly stormed out of the program.
Neither portrayal is accurate. Hurts was frustrated and disheartened by the demotion. He considered transferring immediately. He may still leave after the season concludes.
Bryant also agonized over his decision. He was frustrated and disheartened by the demotion. He considered staying on the team and battling to regain the starting spot.
Hurts and Bryant both made the right choice.
But even if the situations were identical, their disparate decisions would still deserve understanding and support. One can respect their choices without completely agreeing with them.
We can debate incessantly on what they should have done and speculate on what we would have done, but until we encounter such a difficult dilemma, we could never be certain of our response. Therefore, we should suppress our own satisfaction or discontent with their choices to acknowledge and appreciate the difficult path they must navigate.
Former Clemson quarterback Kelly Bryant (2) as a Tiger against Wofford Saturday, September 5, 2015 at Clemson's Memorial Stadium.
Through the last two months, Bryant and Hurts both endured adversity. They both dismissed criticism. They both held steadfastly to their beliefs and desires. They both enjoyed triumphs. They both found redemption.
They both proved that in this test of resolve and conviction, there can be more than one correct answer.
If you consider yourself as a passionate online shopper like myself,Ebay  has amazing  deals on the best products.I hoped you enjoyed the  College Transfer Guide-Current NCAA Transfer Policies Have Created A New Culture article and if you have any questions  want to leave a comment or want to leave your own personal review,please leave a comment below .
Thank you,
Erick Darke
by