Star Athlete And Huge Basketbal Fan Olivia McGinnis-Taylor Was Only 12 Loses Battle With Brain Aneurysm
.
Who Was Olivia  McGinnis-Taylor
Olivia was born on December 22, 2000 to Carl and Karla Taylor at Methodist Hospital in Omaha, Nebraska. Olivia was called home on July 5, 2013 while surrounded by family. Olivia had just completed sixth grade at Rockbrook Elementary in May.
Olivia was a very cheerful girl from the time she was able to express herself. It was not uncommon for Olivia to wave and say, 'Hi' to nearly everyone in the grocery store . She remained known as someone who was very liberal with hugs and her big beautiful smile. Olivia always had a huge heart and time for younger kids. She treated them with such patience and love and always made time for them.
She has always had a love for animals and knew an amazing amount of facts about animals and wildlife. One of her favorite books was an encyclopedia with facts where she could learn even more.
She loved to express herself through singing and dance. She participated in the National American Miss Pageant in 2011 and had a wonderful experience. Art was another way she loved to express herself.
Olivia always loved visits to her Grandpa and Grandma's farm near Mount Ayr. She was outside from sunup to sundown playing with animals, exploring and playing with Jasmine her sister. She also was very intrigued by the Amish families who lived near her grandparents and at one point Olivia was convinced she wanted to be Amish. From the time Olivia was a few years old, she went with her grandparents, mom and sister to the Ring Gold County Fair. Those were some of Olivia's favorite times. She cherished the many friends she made at the fair. She was most proud of her watermelon eating contest wins — five years in a row, not to mention the bubble blowing and paper airplane flying contests.
Olivia spent many summer vacations in Michigan enjoying quality time with family and playing at the beach and parks.
In her spare time, some of Olivia's favorite things were communicating with friends on social media, watching TV, swimming and hanging out with Jasmine.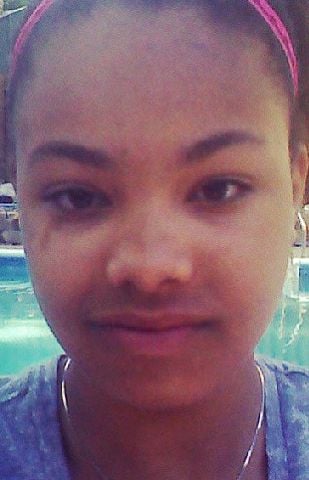 Girls Basketball Players At Omaha Westside Play For Olivia McGinnis-Taylor
She loved animals, softball and most of all, basketball. The 2018 would have been Olivia's senior year on Omaha Westside's basketball team. But five years ago on July 4th, 2013, a brain aneurysm took her life. She was 12 years old.
By honoring Olivia's memory her best friend Liz and Jasmine  dedicated their remaining girls basketball playing days in memory of their team mate.
Liz wears a necklace that has Olivia's ashes in it.Jasmine has a tattoo with her sister's name.
The Westside High School also keeps a picture of Olivia in the locker room so all the players see right before they take the floor at a home game as inspiration.
The family of Olivia's has started the Love Olivia Foundation in her name. The goal is to spread the love that she had for everyone by providing athletic shoes for those players  in need of  foot gear  .Events are planned annually to help raise donations through the foundation .
She is here in the spirit might , although Olivia is not here in the flesh. They always play for her.She'll always be with them.
Young Basketball Passing Was Unexpected
She liked to share Instagram photos with her friends, especially her basketball and softball teammates.As like other teenagers  do.
A pitcher for the Ralston Riots, a select, fast-pitch, traveling softball team. Olivia also played for the Amateur Athletic Union's Retro Basketball team, another select, traveling team .
Her aunt, Kim Foster said  her niece was a star athlete.
The  unexpected death of Olivia spread among her Instagram friends and team mates . Her basketball team chose to play in a weekend tourney ,the softball team she played for pulled out of a scheduled tournament in Des Moines  Iowa.
Her Aunt said Olivia passed way at Immanuel Medical Center. An autopsy showed that she died of a brain aneurysm.
Olivia finished sixth grade at Rockbrook Elementary School  this past spring . She attended kindergarten through fourth grade at Prairie Lane Elementary.
Foster described her niece as outgoing.
"She was very cheerful and had an amazing smile," Foster said. "She just meets friends wherever she goes."
Olivia also loved animals, especially her cat, Ava, Foster said.
Olivia Will Forever Be An  All Star Athelete
Sports quickly became a very important part of Olivia's life a few years ago when she embarked on basketball and softball. She not only excelled in both sports but met many amazing friends. She was selected for the Boys & Girls Club All-Star team as a fifth and sixth grader, MVP of Columbus Fire & Ice tournament where she hit a three-run home run.
Omaha Westside Girls Basketball
Mascot Warriors Team Varsity 2018-19 Colors Red, BlackCoach steve clark Address 8701 Pacific St, Omaha, NE 68114Overall 5-2 District 3-2 National Rank 2582State (NE) Rank 38
Just because female do not always dunk , people think we can't play. In reality basketball is just  not about only  dunking the ball . If you take away guys being able to dunk, then that really exposes how they can play. You really have to think the game. If you actually know the game, then you would respect both sides.
A lot of  Women basketball players are really good. Asia Durr, Katie Lou Samuelson who plays at  UConn, Arike, those type of girls going to the league, they are bringing more talent, and I feel like women's basketball will be more fun to watch and it'll be more enjoyable. I feel like they're sleep, but as it keeps evolving, players grow up and players keep getting drafted, I feel like it'll be a more watched sport and people will start to take it more seriously . Most women basketball payers are not only playing for themselves, but there's reason behind every struggle and every story.Also playing for the next generation  of female players.
 Just to be able to play and for people to be interested in it. They do it for fun. Some  have  played in the backyard, with boys all  their lives. So to be able to play against other girls and showcase the talent. They just want to go out there and have fun.
If you consider yourself as a passionate online shopper like myself, eBay has amazing  deals on the best products.I hoped you enjoyed the Allstar Performance-#MissingOliviaForever article and if you have any questions want to leave a comment or want to leave your own personal review,please leave a comment below .
Thank you,
Erick Darke
by