Aleali May Changed the Sneaker Game for Women
Aleali May (pronounced "uh-lay-lee"). Grew up in South Central L.A. Is a power house social media influencer (with 250,000 Instagram followers and counting),designer stylist and model has been focusing on designing sneakers . More accurately Jordan Brand's  kicks. May brought her accessory A-game on Fridays, when students were permitted to wear their footwear of choice to the Hill crest Drive Elementary School. "It was a competition if you came with the newest or rarest sneakers," she says.
Jordan 1 Retro High Og Aleali May GS 5.5y In HAND ready to ship
Currently May has perhaps one of the most unique pair of all: her own custom-designed Air Jordan 1, cementing her place in history as the first female collaborator with the Jordan brand on a sneaker style for both men and women. To mark the milestone, she recently made her big-screen debut in Unbanned: The Legend of AJ1, a new documentary that premiered at the Tribeca Film Festival about the history of the Air Jordan 1 and its impact on fashion, sports, and music. Here's how she got there. She is a real bad ass: Following stints at Virgil Abloh's RSVP Gallery in Chicago and Louis Vuitton, May was the first woman to collaborate on Air Jordan sneaker designs for the both women's and men basketball shoes . Recently she's added stylist to her CV, racking up clients including Lil' Yachty,Tinashe and Kendrick Lamar to name a few.
The corduroy detail on May's Jordan 1 is a nod to corduroy slippers sold in flea markets throughout her hometown of South Central, and the black and silver colorway represents her favorite NHL team, the L.A. Kings. "You can wear them up or down it doesn't look like a basketball shoe," she says. "When you put them on, you want to be like Mike (Jordan) and dominate the world." Women she admires: Aaliyah, Alicia Keys, and a few token Spice Girls. "I had posters of Aaliyah and Alicia Keys all over my childhood bedroom," she says. "I was all about the mix—sometimes I want to be a little crazy, sometimes I want to dress up, but most of the time I just want to be comfortable." Looking ahead: May hopes to continue making waves in the footwear industry. "I want to take Jordan silhouettes to the next level," she says. "I want to highlight more women. There are more girls just like me that love heels but also love sneakers."
She's hit the runway modeling for Kith as well.
Family ties: May gives mad props to her Uncle G for getting her at a young age into the sneaker culture . "He bought me Jordan 12's when I was in elementary school," she says. "That was when I developed a true love of high tops it invoked  the silhouette of every sneaker I've gotten since."
Overcoming obstacles: Being the sole woman in a predominately male-run market isn't without its fair share of challenges. "There's always an internal battle to represent myself and keep going," May says. "The challenge is not giving up." During particularly tough times, she's leaned heavily on her Buddhist faith. "I do the same chant as Tina Turner and Orlando Bloom," she says. "Nam myoho renge kyo. It's about pushing through every barrier and reaching your highest potential.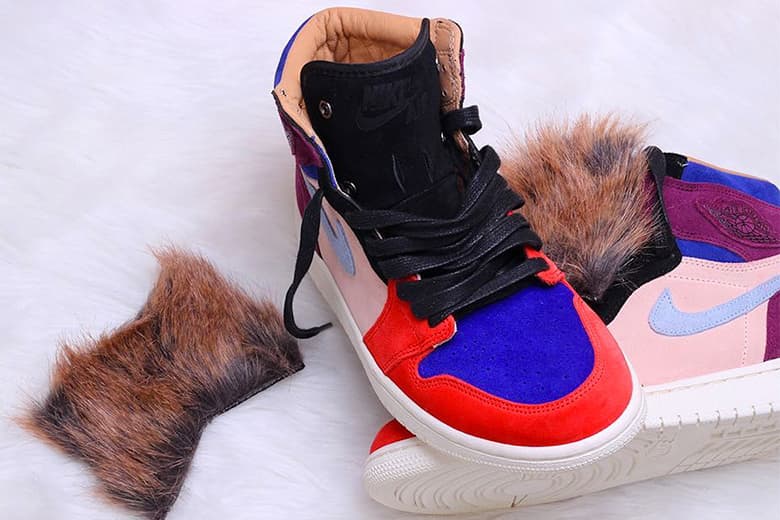 Back in fall of 2016 Aleali May revealed a one-of-one Air Jordan 1 with colorful details resembling the fan-favorite "Viotech" Dunk. In the time since, she's dropped a different, corduroy-covered Jordan 1 and teased a "Millennial Pink" Air Jordan 6. And now, there's talk that May's original Jordan 1 could see the light of day. Originally showed off by May in November 2016, the designer most recently wore the fur-adorned sneakers to Virgil Abloh's Louis Vuitton Spring/Summer '19 show. With a variety of colors on a suede upper, the shoes feature a fur tongue, wax laces, and a host of other unique details. Despite this new-look from leaked sources, what remains unclear is if the sneakers will end up releasing, however rumors point to a possible women's drop this holiday season.
Friends and Family Air Jordans Aleali May's 'Millennial Pink' Air Jordan 6.
Shoe Brand: Jordan Brand
Model: Air Jordan 6 "Millennial Pink"
Features: Branded adjustable lace lock, nubuck construction with perforations, leather accents, visible air bubble unit in the heel, semi-translucent outsole
Price:US $400.00
Buy: eBay
Aleali May: One of Instagram's most fashionable influencers and sneaker enthusiast has forthcoming collaboration with Jordan Brand.
Fashion blogger and stylist Aleali May is the latest recipient of her own special pair of Air Jordans. May took to Instagram to give a closer look at her friends and family pair of the "Millennial Pink" Air Jordan 6.
This exclusive grade school-sized pair features an all-pink upper, and appears to borrow some inspiration from an OG colorway of the Air Jordan 6—Infrared detailing is found on the mid sole, heel tab, lace lock, and Jumpman branding on the heel. The pair is finished off with a translucent outersole.
These kicks were made especially for family and friends of May, they will likely never see an official retail release, so the best bet to cop a pair may be hoping for one at Ebay.
The CV of May boasts work sales for brands such as RSVP Gallery and Louis Vuitton , and image consulting for rap superstars like Kanye West and Kendrick Lamar .
If you consider yourself as a passionate online shopper like myself,eBay has amazing deals on the best products and exercise equipment . I hoped you enjoyed the Air Jordan 1 Retro High OG- New Aleali May Air Jordan 1 Collaboration article and if you have any questions about the post want to leave a comment or want to leave your own personal review, please leave a comment below .
Thank you,
Erick Darke
by