Basketball Africa League Launches With Obama On Board
Former United States President Barack Obama will also be part of  the league.NBA Commissioner Adam Silver said, Obama's role has not been determined but should be limited to a consultancy position at minimal one would suspect.As the President has been spotted at many NBA and NCAA games previously .Included the one  where now current NBA rookie phenom Zion Williamson blow out his Nike shoe while  playing for Duke University in 2019 under coach Mike Krzyzewski.Even when he was in office he would be found at times shooting around a game of hoops with some staff of his Presidential  Administration.
NBA And FIBA Organized The Basketball African League
FIBA and The National Basketball Association organized the Basketball African League.It will mark the first  professional league outside North America with The National Basketball Association as a major partner.
,
Professional teams from Senegal, Mali, Morocco, Cameroon, Mozambique, Madagascar,
Algeria, Rwanda, Angola, Nigeria, Tunisia and Egypt will make up the BAL's 12 teams this season.
Six teams were granted automatic entry into the BAL after winning their country's hoops leagues. Other remaining six team squads by  way of a tournament playoff process were able to join the league .
The Basketball Africa League Kicks Off March 2020
The NBA and FIBA's commitment to establishing the BAL as a world-class professional league that champions
inclusion and youth development, provides an entertaining product for fans of all ages, and drives economic growth across the continent.That is what inspired The BAL logo
The logo's colors convey multiple meanings. The red and royal blue connect it back to the NBA, while also symbolizing love, energy,confidence and strength.  The yellow and green speak to Africa's optimism, joy and wisdom, while celebrating health, harmony and environment.
The shape of the logo and the use of a player silhouette connect to the visual structure of the NBA's family of logos, which includes the NBA, WNBA, NBA G League and NBA 2K League.  The use of a player taking a jump shot also speaks to one of the most fundamental plays in the game of basketball, a showcase of the talent and skill that will be on display when the inaugural BAL season tips off in March 2020."This unique logo reflects the exciting and dynamic nature of our game, symbolizes the richness, diversity and authenticity of our continent, and represents African basketball on the world stage said a FIBA Official.
This new logo will not only become synonymous with our league,but also with the values and aspirations that the BAL brand will promote and inspire."
The inaugural BAL regular season will take place in Cairo (Egypt),Dakar (Senegal), Lagos (Nigeria), Luanda (Angola), Rabat (Morocco) and Monastir (Tunisia).  Kigali (Rwanda) will host the first-ever BAL Finals.  NIKE and Jordan Brand will be the exclusive on-court outfitter of the new professional league.The first BAL Combine, a two-day scouting event featuring 50 aspiring
players from Africa, the U.S. and around the world, was held earlier this month at Hospital for Special Surgery (HSS) Training Center  the official practice facility of the Brooklyn Nets n Brooklyn, New York. FIBA and the NBA also plan to dedicate financial support and
resources toward the continued development of Africa's basketball ecosystem, including training for players, coaches and referees, and infrastructure investment.
The announcement about FIBA and the NBA's launch of the BAL, which would mark the NBA's first collaboration to operate a league outside of North America, was made at the NBA All-Star 2019 Africa Luncheon in Charlotte on Saturday, Feb. 16 2019.
The Basketball Africa League Launches Full Season March 13 2020.
Jerseys for each of its 12 teams were revealed recently.Sports apparel giants Nike and Jordan Brand will be outfitting six squads each.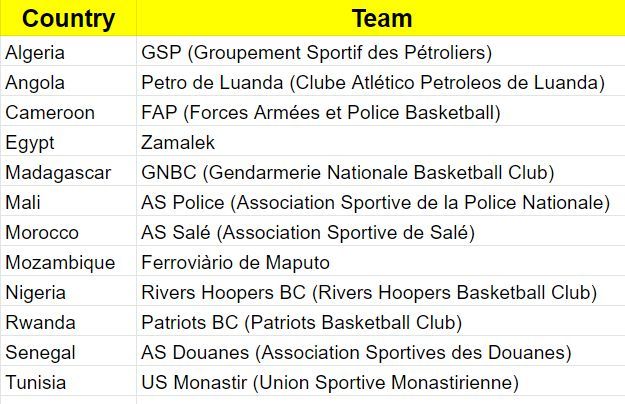 The announcement was made by BAL President Amadou Gallo Fall at the NBA All-Star 2020 Africa Luncheon in Chicago, in the presence of FIBA Secretary General Andreas Zagklis, NBPA Executive Director Michele Roberts, Retired General Martin E. Dempsey, NBA Commissioner Adam Silver, FIBA President Hamane Niang, FIBA Africa and BAL Board President Anibal Manave, FIBA Africa Executive Director Alphonse Bilé, Philadelphia 76ers Co-Managing Partner David Blitzer, Milwaukee Bucks Co-Owners Wes Edens and Marc Lasry, Brooklyn Nets Alternate Governor Oliver Weisberg, NBA Deputy Commissioner and Chief Operating Officer
Mark Tatum, Toronto Raptors President Masai Ujiri and members of the NBA family, including Las Vegas Aces center and three-time WNBA All-Star Liz Cambage (Australia; parent from Nigeria), New Orleans Pelicans Vice President of Basketball Operations and Team Development and three-time WNBA Champion Swin Cash, NBA Cares Ambassador Jason Collins, former NBA players Festus Ezeli (Nigeria), Mamadou N'Diaye (Senegal) and Olumide Oyedeji (Nigeria), Boston Celtics two-way player Tacko Fall (Senegal),
2005 WNBA Champion Hamchétou Maïga-Ba (Mali), two-time NBA Champion D.J. Mbenga (Democratic Republic of the Congo), Capital City Go-Go General Manager Pops Mensah-Bonsu (Ghana),Former NBA Defensive player of the Yea rand now League  Global Ambassador Dikembe Mutombo (Democratic Republic of the Congo), Oklahoma City Thunder guard/forward
Abdel Nader (Egypt), Los Angeles Sparks forward and two-time WNBA All-Star Chiney Ogwumike (parents from Nigeria) and Minnesota Timberwolves guard Josh Okogie (Nigeria).
"This is a historic moment as we welcome the 12 teams that will participate in our inaugural season," said BAL President Amadou Gallo Fall. "These teams have earned the opportunity to represent their respective countries and will establish the BAL as a world-class product that entertains fans of all ages when the season tips off March 13."
Champions from national leagues in six countries – Angola, Egypt, Morocco, Nigeria, Senegal and
Tunisia were assured participation  in the inaugural BAL season. The remaining six teams, which come from Algeria, Cameroon, Madagascar, Mali, Mozambique and Rwanda, secured their participation through BAL qualifying tournaments conducted by FIBA Africa across the continent in late 2019.
Each African Country Allowed To Have Two Squads Each
All African countries can only have two teams limit. in the "As we've been talking about this concept over the last several months,
there's been a tremendous reception from several of our NBA team owners," Silver said. "Several of our partners have also expressed an interest to work with us in Africa."Basketball Africa League is the NBA's first pro league outside North America and will be co-run with FIBA.
Exhibition games in Africa in three of the previous four years was put on by the NBA .
Currently at least 80 current and former ballers are from Africa or have ties to the Motherland ,Africa. Additionally 16 Basketball Without Borders events were put on in Africa by the NBA in the past.
"We're excited to work closely with the NBA to develop and put in a place a professional league like none that we have ever seen in our region before," FIBA Africa executive director Alphonse Bile said. "Through the Basketball Africa League, we can provide the many great clubs and players with the best possible environment to compete for the highest stakes."
About FIBA
FIBA is he world governing body for basketball – is an independent association formed by 213 National Basketball Federations throughout the world. It is recognized as the sole competent authority in basketball by the International Olympic Committee (IOC).
If you consider yourself as a passionate online shopper like myself,eBay amazing deals on the best products.I hoped you enjoyed the Africa Basketball League-Inaugural Basketball League Launches With Nike Brand Jerseys article and if you have an questions want to leave a comment or want to leave your own personal review,please leave a comment below .
Thank you,
Erick Darke
by